NBA Houston Rockets center Yao Ming will not play in next month's National Basketball Association All-Star Game in Las Vegas.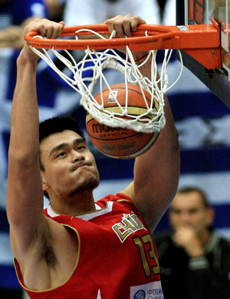 Yao Ming.
The Chinese giant told the Houston Chronicle that his fractured tibia would not yet be healed.
The 2.26m Houston Rockets star, an All-Star starter in his first four NBA seasons, has not played since breaking his leg December 23, halting a stellar season with averages of 25.9 points, 9.4 rebounds and 2.1 assists in 27 games.
"I will definitely not play at the All-Star Game next month," Yao told the Houston Chronicle newspaper. "I hope to be back sooner than the scheduled time.
"It's going pretty well so far," Yao said. "Right now we're looking for some rehab to make the muscle stronger so when I'm back to play I'm not hurting."
Yao said he is scheduled to begin on-court training about the time of the All-Star Game break, February 16-18, but will "definitely not" be in Las Vegas.
He said he hopes to return earlier than mid to late March as is now planned.
Yao has been the top vote-getter at Western Conference center in fan balloting for the starting all-star positions.
Starters are expected to be named later this week.
The sudden injury halted his stellar fifth NBA season, during which he was averaging 25.9 points, 9.4 rebounds and 2.1 assists in 27 games.
Ranked seventh in the tough Western Conference, without Yao Houston went 9-1 before losing three in a row.
The team had been the NBA's stingiest defence, averaging just 90.5 points against, but they have conceded 100 points in the past four games.
Trying to make up for Yao's presence in the paint has exposed the team in the deep, with Dallas, Phoenix and Denver each shooting 49.3 percent from behind the arc. Rebounding has suffered despite veteran Dikembe Mutombo's best efforts, with the team being dominated 179-159 in the past four games.
Rockets owner Leslie Alexander said Yao is needed back quick.
"If we get Yao back and Tracy McGrady stays healthy and the team stays healthy, we can be an excellent team going into the playoffs," Alexander told the Chronicle. "I'm not going to define it that precisely. I just think going deep into the playoffs is a start.
"I'm very pleased where we are, how many games above .500 we are, and the fact we're near the top of the Western Conference."
Chron.com contributed to the story