Spearheaded by World No. 1 Lin Dan, China cruised to a 5-0 win over all-amateur squad of India and clinched their first win at the Doha Asian Games on Thursday.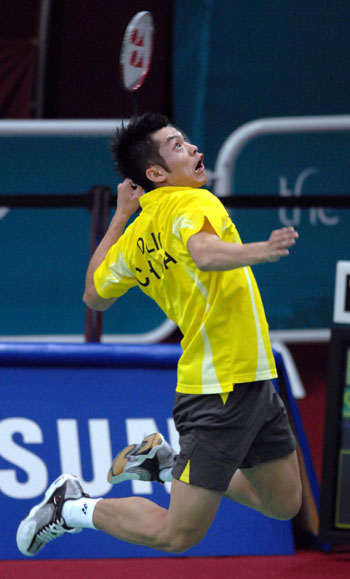 Lin Dan jumps to smash the shuttlecock during Chinese badminton team's first game in Doha Asian Games against India November 30, 2006. China cruised to a 5-0 win. [Xinhua]
Lin, China's first singles, however, only managed for a two-point win in his first set 21-19 after his Indian rival Anup Sridhar struggled for a 19-19 tie.

"He played in a very strange way," Lin said of his first rival at the Asiad. "Anyway I won, and I just used the first clash to adjust myself to the venue here", said the 23-year-old, who finished the second set 21-11 in just 12 minutes.
The Asian Games gather nearly all the world ace shuttlers except those from Denmark, including Indonesia's Olympic gold medalist and World Champions winner Taufik Hidayat, Lin's long time arch rival and Malaysia's sensation Lee Chong Wei.
Lin, who had never won an Olympic or Asian Games gold, vowed to pocket the gold in Doha.
"It is likely that my big rivals here will come from my teammates," Lin said of his road to the Doha Games gold. "I have a strong feeling that Bao Chunlai and I will meet in the final if both of us play well".
He was referring his teammate and world No. 6 seed Bao Chunlai, who was upset by Lin in the World Champions final this year.
"But if we meet in the knockouts before the final, I will still go all out to play. It will be my respect for my teammate and I believe he shares the same opinion".