Dato Zainal Abu Zarin of Malaysia, newly elected president of Asia Paralympic Committee, declared here on Tuesday that Guangzhou of China won the bid to host the 2010 Asian Para-Games.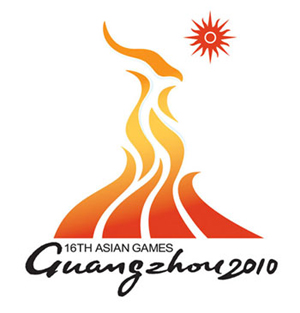 The logo of the 16th Asian Games Guangzhou 2010 is shown in this picture. The logo, a combination of the Five-Barn Sculpture (Guangzhou goes by the alias of the Ram City) and an Asian Games torch was unveiled in Guangzhou November 27, 2006. [Xinhua]

The Federation of Far East and South Pacific Games for the disabled and the Asian Paralympic Council had merged into the Asia Paralympic Committee at the FESPIC Federation General Assembly held on November 27 and 28.
Zarin declared that with a majority of members voting in favor of Guangzhou, Guangzhou won the bid to host the 2010 Asian Paralympic Games.
Su Zequn, deputy mayor of Guangzhou municipal government, said in his bidding statement: "Guangzhou has perfect sports facilities. There are more than 10,000 sports facilities in Guangzhou, most of which are accessible to people with disabilities. And there is a comprehensive sports center specifically designed as the training base for the disabled athletes."
"Guangzhou has won the bid to host 2010 Asian Games. The 44 competition venues and 44 training venues, which are going to be used for Guangzhou Asian Games, will be renovated before 2010 to meet special requirements of Asian Para-Games." he added.
When introducing Guangzhou's experiences in hosting major sport events, Su said: "With professionals and volunteers in high quality and large quantity, Guangzhou had successfully hosted two National Games, one National Para-Games and numerous major international events. The 2008 Beijing Paralympic Games and 2010 Guangzhou Asian Games will surely give us invaluable experiences and abundant human resources."
Su proposed that 2010 Asian Para-Games be held in the middle of December 2010, shortly after scheduled Guangzhou Asian Games on Nov. 11-27, which will benefit the Asian Para-Games in terms of continuance of publicity and sharing of resources.
When responding to the question that the two Games will be held back-to-back, Zarin said that the case happened in Bangkok of Thailand and Busan of South Korea and it might be a tendency.
"But as the Asia Paralympic Committee has just emerged, we have not thought about that and have not signed any agreement with Asia Olympic Council."