MUNICH, June 24 - Argentina were forced into extra time by Mexico on Saturday before winning 2-1 to set up a quarter-final against World Cup hosts Germany, while the party mood was soured by trouble involving English and German fans.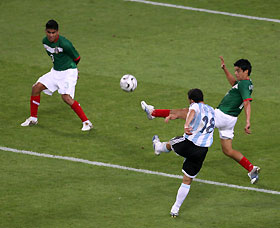 Argentina's Maximiliano Rodriguez (2nd L) scores his team's second goal against Mexico during their second round World Cup 2006 soccer match in Leipzig June 24, 2006. [Reuters]

Violence flared in the southern city of Stuttgart where England play Ecuador in the second round on Sunday.

Riot police detained around 200 England supporters after they clashed with German fans, throwing bottles and chairs and trading punches in a square in the centre of Stuttgart.

Tens of thousands of English and German fans had gathered in the area, many drinking throughout the day, to watch Germany's 2-0 win over Sweden on big screen TVs. Trouble broke out shortly after the end of the game.

Riot police drove the German fans out of the area and then moved in to round up England supporters, taking them away in vans in an operation lasting several hours.

"The cells will be very busy tonight," Stuttgart police spokesman Stefan Kielbach told reporters.

"It's like a theatre here, and if we don't arrest them there'll be trouble here all night."

There was plenty of drama on the pitch. Germany, three times world champions, made light work of Sweden, two goals in the first 12 minutes from Lukas Podolski earning them victory in the game in Munich.

The Swedes had defender Teddy Lucic sent off in the first half and striker Henrik Larsson blazed a penalty over the bar early in the second half. After that there was no way back.

Hundreds of thousands of jubilant Germans celebrated along Berlin's Fan Mile in the shadow of the Brandenburg Gate, chanting "Super Podolski" and "Final", confident that coach Juergen Klinsmann can take his side all the way to the final in Berlin on July 9.

ARGENTINA BATTLE

Argentina, winners of the World Cup in 1978 and 1986, had to work hard against a battling Mexico but triumphed thanks to a sublime volley from midfielder Maxi Rodriguez eight minutes into extra time.

The victory prompted scenes of jubilation in Buenos Aires where people poured into the rain-splashed avenues, screaming, singing, dancing, blowing horns and setting off firecrackers.

Mexico had shocked Argentina by scoring in the sixth minute in Leipzig, captain Rafael Marquez stretching out to half volley the ball into the top of the net.

Four minutes later, the Argentines were back level. Hernan Crespo was credited with netting Juan Roman Riquelme's corner, although replays clearly showed Mexico's Jared Borgetti headed the ball past his own goalkeeper.

Mexico were angry when Argentine defender Gabriel Heinze escaped with only a yellow card after tripping Mexico's Jose Franciso Fonseca as he ran towards goal.

"It looks like the referee is a bit more on their side," Mexican President Vicente Fox told reporters back home in comments made while the game was still going on.

The Germany-Argentina quarter-final in Berlin on Friday brings together the countries that contested the 1990 final in Rome when West Germany beat Argentina 1-0.