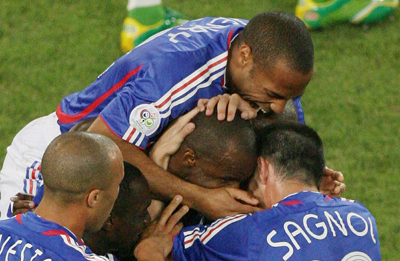 France players celebrate Patrick Vieira's (obscured) goal against Togo during their Group G World Cup 2006 soccer match in Cologne June 23, 2006. [Reuters]
Zidane, whose career would have ended without a France win, will be back when the French face the Spaniards in Hanover on Tuesday.
"Yes, it is a great match. I expected to play them but not in the same scenario," Domenech said. "I thought they would finish second and we would finish first. But, never mind, it is a great match anyway."
After a game played in the city where he was born, Togo coach Otto Pfister said he had plenty of reasons to stay on despite his row with the federation over bonus payments.
"Togo has a future not only at African level but also at world level," he said. "We were confronted by the ex-world champion and ex-European champion. It is the class of player who makes the difference."
Knowing another first-round elimination would be another disaster for French soccer, Domenech's team wasted no time in pressuring Togo and created a stream of early chances.
"We saw what France is capable of and I can assure you we are more than motivated," said Lilian Thuram, who set a French record with his 117th international appearance. "If we weren't, we wouldn't have got through."
Although they created plenty of chances, little went right for the French team before halftime and there was a tense look about Domenech's players as they left the field with the game scoreless.
But the breakthrough came when Ribery went on a run and, instead of shooting, opted to feed the ball inside to Vieira. The Juventus midfielder spun to fired a powerful right foot shot past Agassa from 10 yards and the tension lifted.
"I've been right for a long time about him, when others have not," Domenech said. "He is exceptional. He scored a goal and he created a goal. This does not surprise me, that's the Vieira I know. He will keep doing this for us until the end."
There was still danger at the other end and French defender Willy Sagnol blocked a powerful, goalbound shot from Emmanuel Adebayor.
But France's problems disappeared in the 61st minute when Vieira headed on a lobbed pass from Sagnol and Henry held off a defender to score with a low right foot shot.