Beijing launches Games security plan
(Reuters)
Updated: 2006-04-27 16:15
Beijing police showed what visitors, friendly or otherwise, can expect at the 2008 Summer Games when they launched their Olympic security training programme on Thursday.

Security Director Qiang Wei presided over a display of policing skills that included a simulated hostage rescue, SWAT team drills and a TV-style quiz show.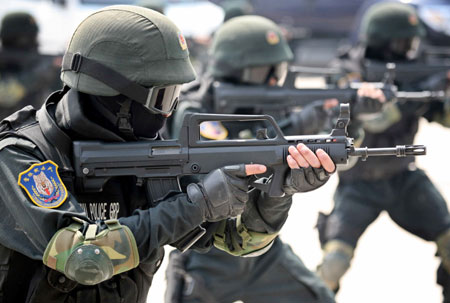 Masked members of a Chinese police SWAT team perform their skills at a ceremony to launch their Olympic security training programme in Beijing April 27, 2006. [Reuters]


"We will carry on a principle of 'walking out and inviting in' in the Olympic security training programme, learning from the successful experiences and usual practice of past Olympics," he said at a new training centre north of the Chinese capital.

All of Beijing's 40,000 police officers will take part in the training. The majority will also have language training to help them deal with the more than two million visitors expected in the city before and during the Games.

A full-scale mock-up of a city square, complete with bank, hotel, subway station and McDonalds restaurant, was the scene for an exercise in which two motorcycle-riding, gun-toting terrorists got their just desserts for taking a fruit seller hostage.

Black-clad figures in balaclavas scaled fake apartment frontages and took up positions in alleyways before, with a couple of loud bangs and a puff of pink smoke, hostage and terrorists alike were bundled away in handcuffs.

"We have had very close cooperation with France, Germany and Britain on counter-terrorism," said Zhao Yuan, the director of training and personnel for Beijing's police. "Because of the international situation we have to be prepared for anything."

QUIZ SHOW

The quiz show was designed to illustrate the welcome that more friendly visitors can expect, with six teams of police officers competing to show their knowledge of procedures.

The correct way to deal with a foreigner who has a heart attack, a lost handbag, a foreign soccer fan trying to get into a stadium with a huge knife and a journalist who had driven into a controlled traffic area were all satisfactorily explained.

A scenario where a group of people were "drinking and being loud" in the Olympic village ended up with their removal from the area "to ensure the security of the Olympics", according to the responding officer.

The quiz was followed by a language drill as 48 officers marching with military precision around a parade ground yelling in unison: "Welcome to Beijing!", "May I help you!".

"About 60 percent will get some training in English, Spanish, French, German and Arabic," Zhao added.

"It is impossible to train them all but those trained will be deployed on the streets where we expect there to be lots of foreign visitors and, of course, at the Olympic venues."