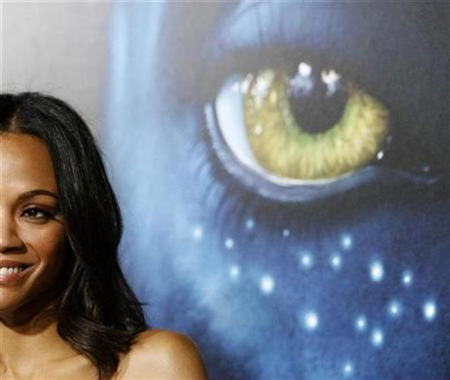 Cast member Zoe Saldana poses at the premiere of "Avatar" at the Mann's Grauman Chinese theatre in Hollywood, California December 16, 2009.[Agencies]
Latest News:Big Sunday raises `Avatar' weekend to $77M
LOS ANGELES - Since June, when the Academy of Motion Picture Arts and Sciences opened the best picture race to 10 nominees, Oscar has been waiting for a knight in shining box office armor -- preferably a "Dark Knight": a commercial powerhouse with strong critical credentials.
A large part of the rationale for opting for an Oscar Top 10 was the hope that Academy voters would embrace mainstream hits, thereby expanding the potential audience for the broadcast while avoiding the cries of protest from jilted fanboys who felt robbed when "The Dark Knight" failed to earn a best picture nomination last time around.
But then another "Dark Knight" failed to materialize immediately. Consider: Pixar's "Up," released in May and now the No. 3 domestic grosser of 2009, is regarded as a possible contender -- if it isn't relegated to the animated feature category. "The Hangover," the year's biggest comedy at No. 4, with $277 million, would have to overcome the hurdle that it is the year's biggest comedy. "Star Trek" might have attracted appreciative reviews and a No. 6 rank at the box office, but it doesn't seem to have inspired much Oscar buzz in the top categories.
In fact, you have to move all the way down the list of the year's top grossers to No. 22, "Inglourious Basterds," before finding another movie that appears to be in line for a best picture nomination.
But just when it appeared that a whole host of smaller, specialty films were lining up to fill the available slots -- in the process, undermining the Academy's attempt to reach out to a wider audience -- Fox's "Avatar," with a veritable flourish of trumpets, has ridden to the rescue.
There were plenty of skeptics awaiting the years-in-the-making film with a show-me attitude. But once it began screening two weeks ago, and in the wake of its opening Friday, James Cameron's space odyssey has redefined the awards-season contests.
Critically, the movie's collective reviews stand at 83 out of 100 on the Metacritic Web site. At RottenTomatoes.com, 83% of the movie's notices were positive, and among the site's sampling of top critics, the approval rate rose to 94%. Even the Los Angeles Times' Kenneth Turan, one of the loudest voices torpedoing Cameron's "Titanic" in 1997, hailed the filmmaker's new movie, praising it for restoring "a sense of wonder to the moviegoing experience" and testifying "the film's romantic protagonists paradoxically end up feeling like creatures whose fates we care more about than we did Leonardo DiCaprio and Kate Winslet's on the boat."
Commercially, "Avatar" appears on track as well. Its first-weekend domestic gross clocked in at $77 million, which was several million dollars higher than the studio's Sunday estimate. It remains to be seen whether it will attract the repeat business that floated "Titanic's" boat week to week. It's worth noting, though, that moviegoers showed a preference for seeing the movie in 3D -- 72% of the opening-weekend take came from 3D screens, 13% from Imax 3D screens. Since there's still a relatively limited number of 3D and Imax screens in play, that suggests the movie will play like an old-fashioned, leggy blockbuster, rather than the one- or two-weekend wonders of the standard superwide release, with moviegoers lining up for the available screens.
All of which brings us back to the Academy, where the movie officially screened at the Samuel Goldwyn Theater on Sunday evening. The audience was packed, and the response was huge, with waves of applause greeting individual names during the end credits.
Hollywood insiders, recognizing the technical leaps involved, already have begun applauding. None other than Steven Spielberg has called "Avatar" "the most evocative and amazing science-fiction movie since 'Star Wars.'"
But it's not just about technique. Thematically, the movie also might strike a nerve with the Academy. "Honestly, it's the most liberal, old-fashioned Hollywood movie in years," said one member of Sunday's audience. "It's eco-friendly, and it's a diatribe against George Bush's America, raping and pillaging sovereign nations for their resources."
So how big could "Avatar's" footprint be when the Academy noms are announced February 2?
Right now, the number that's being bandied about is nine -- drawn from a menu that includes best picture, director, visual effects, editing, art direction, sound, sound editing, score and song. (Cinematography, costumes and makeup are more of a stretch, given how much of that work was done digitally.)
Unlike "Titanic," which earned acting nods for Kate Winslet and Gloria Stuart, "Avatar" will have a tougher time winning over the actors branch unless it's feeling generous and rewards Sigourney Weaver with a supporting actress nomination for her feisty scientist.
By rights, Zoe Saldana also should be part of the conversation for her warrior princess Neytiri. But while the actress might have displayed her versatility with her equally high-profile appearance this summer as Uhura in "Star Trek," she's not seen in the flesh in "Avatar."
Even though the studio hopes to get out the message that the actors involved delivered full-blown performances that Cameron captured digitally, that's still a tough sell. Witness the fact that the Screen Actors Guild ignored "Avatar" when it handed out its noms last week. (One added factor: Most of the 2,300-member SAG nominating committee probably hadn't seen the movie by the time its nominating ballots were due December 14.)
But even though "Avatar" isn't expected to pick up the 14 noms that "Titanic" commanded, if it makes it into best picture contention, that will be an achievement in itself since the Academy -- at least under its old five-pic rule poise -- has been fairly resistant to fantasy and sci-fi movies in its top category.
Since 1977's "Star Wars," only 1982's "E.T. The Extra-Terrestrial" and the three "Lord of the Rings" movies at the beginning of this decade have made that select list of nominees. A movie like 1993's "Jurassic Park" -- groundbreaking in its day -- had to settle for visual effects and two sound noms, all of which it won.
"Avatar" is looking like it will join that club -- and potentially attract lots of self-proclaimed Avartards to the March 7 Oscar broadcast as well.
Adam Shankman, who's producing the show with Bill Mechanic, certainly was jazzed when he tweeted early Monday: "'Avatar' is not only brilliant but has the most powerful environmental message of the year. Amazing. Game-changer." Cue the dancing Na'vi.