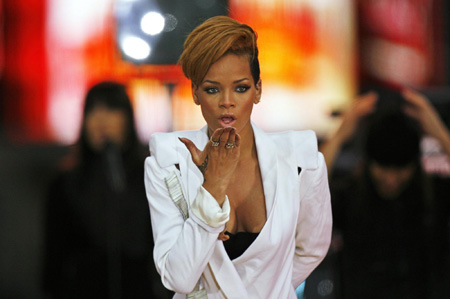 Singer Rihanna blows a kiss at an outdoor concert in New York's Times Square during an appearance on ABC's Good Morning America, November 24, 2009.[Agencies]
One might think Rihanna would welcome a drama-free relationship after her romance with Chris Brown came to such an abrupt and violent end. But one would be wrong.
When Glamour U.K. asked the singer what she looks for in a man, she made one thing clear — no nice guys.
"Definitely the high-risk (type)," the Grammy winner said. "I don't like cream puff, corny guys. Usually they are the nice guys, the ones that won't hurt you. They'll pull out the chair for you and the whole nine yards. Everything is perfect and boring … I like the risk. I like the edge. That's the thrill for me."