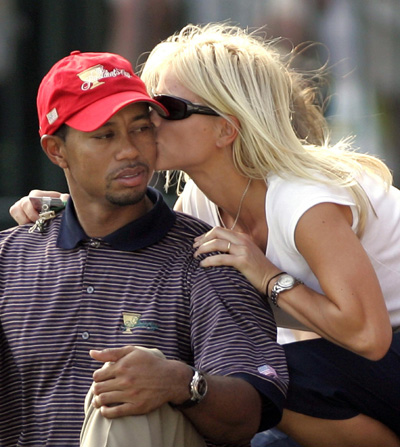 File photo of Woods and Nordegren at
the Presidents Cup in Gainesville
According to msnbc.com, The number of women connected to Tiger Woods could top a dozen by week's end, according to several sources familiar with Woods' behavior during his frequent trips to Las Vegas.
Over the course of the weekend, Las Vegas-based Jamie Jungers, New Yorker Cori Rist and Florida-based Mindy Lawton have all been identified as having extramarital connections to Woods, bringing the total of named women up to six. According to British tabloids, Lawton might be Woods' first mistress; the two met at a Perkins restaurant near Woods' home where Lawton was a waitress, just two years after Woods married Elin Nordegren.
As for other women who have yet to come out, several prominent Las Vegas-based nightclub managers say that although Woods had women he had a "relationship" with, there were definitely others.
"He wasn't one to send away someone who was interested. There was a revolving door of women with Tiger," said one. "I can think of half a dozen off the top of my head. But if you want his business — and you do — you make sure it's kept as discreet as possible."
Another person who lives near Woods' Windermere, Fla., home said that rumors of Woods' infidelity were nothing new.
"Locally, there were always rumors of women in the community that he'd taken up with," said the source. "You just never believed it because it seemed insane that he'd risk everything he has to sleep with women who were basically in his backyard. And with Tiger, you just didn't want to believe it, either."