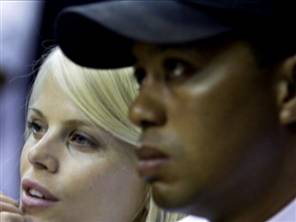 Now that Tiger Woods has admitted to "transgressions," many wonder what is next for his marriage. Many sources are saying that for now, wife Elin Nordegren, who is often a fixture on the 18th green at golf tournaments, is standing by her man.
"She and Tiger have had problems in the past, this is obviously as bad as it's ever been, but she's not leaving as of now," said one person with knowledge of the couple's marriage over the years.
A report in the Chicago Sun Times claims that "intense marriage counseling" is taking place, but Elin's motivation might also be linked to her personal bank account.
"The links legend's spouse is reportedly being paid a hefty seven-figure amount — immediately transferred into an account she alone controls — to stick with her husband," Sun-Times columnist Bill Zwecker reported. He goes on to write that Elin demanded and is getting a total rewrite of the couple's prenuptial agreement. The couple wed in 2004 and have two children.
Reportedly, the couple had an agreement that stipulated they must remain married for 10 years in order for Elin to collect a settlement of $20 million, and that is the part of the settlement being negotiated.
More on Tiger Woods Scoop: Did Woods pay to quiet one alleged mistress? Hey, Tiger: Why so dumb about tech? 'I regret those transgressions,' Tiger says Powell: Tiger is trapped his own kingdom Newsweek: We should leave Woods alone
Vote: Your thoughts on Tiger now?
While it would seem obvious for Woods to have a prenup, no one close to Woods has confirmed that the agreement exists.
One veteran reporter remarked, "Everyone keeps saying 'oh yeah, he's got to have the (ironclad) prenup,' and I think the media is all like, 'he went to Stanford, he can't be that dumb.' But maybe he does and maybe he doesn't."