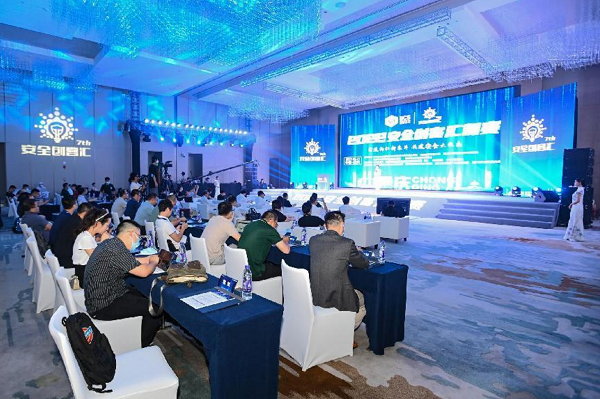 The semi-finals of the seventh cyber security entrepreneurship competition are held in Liangjiang New Area on June 21. [Photo/liangjiang.gov.cn]
The semi-finals of the seventh cyber security entrepreneurship competition were unveiled in Liangjiang New Area, Southwest China's Chongqing municipality, on June 21. The competition was held both online and offline for the first time, and online viewers could attend the event via computers or mobile phones.
High-ranking municipal officials in charge of science and technology, cyberspace administration, economy, information technology, and big data, as well as government representatives from Liangjiang New Area, were present at the event.
As the first professional domestic entrepreneurship investment platform focusing on cyber security, the competition demonstrates mainstream innovation trends in information security technology. It seeks to match high-quality industrial capital with innovative enterprises in the cyber security area through salons, annual competitions and entrepreneurship training sessions.
The contest this year was officially launched in March, and during the preliminary trial, expert panels assessed enterprises in terms of comprehensive technological innovation, market potential and teamwork. A total of 20 companies were selected for the semi-finals after their roadshows and answering questions raised by experts.
The competition has been held a total of six times, with more than 1,000 firms participating. Statistics show that the top 10 winners of previous competitions have all fulfilled several rounds of financing with a gross scale of over 4 billion yuan ($595.6 million).
Mu Xiaoyun, deputy director of the Chongqing Municipal Bureau of Science and Technology, highlighted cyber security as a strategic issue concerning national security that supports the high-quality development of China. Chongqing is currently seeking new development opportunities from the Chengdu-Chongqing Economic Circle, and the bureau has prioritized cyber security technological innovation and is promoting the construction of innovation platforms and the cultivation of innovative personnel.