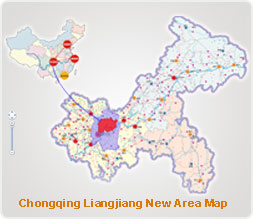 Liangjiang New Area was formally established on June 18, 2010. It was the third national development and opening zone in China - and the first in the inland - approved by the State Council, after Shanghai Pudong New Area and Tianjin Binhai New Area. It is located in the main urban area of Chongqing, near the north of the Yangtze River, and borders Jialing River in the east. Liangjiang New Area includes three administrative districts - Jiangbei district, Beibei district and Yubei district - as well as the northward new district and the free trade port area - and covers an area of 1200 square kilometers, including 550 square kilometers of potential development area, and a permanent population of 2.24 million.
Liangjiang New Area - one of the new focus zones for global industry transmission, a transportation hub of Eurasia international logistics, the area of strategic shift of China's development and the core area of the newly-established market in the inland.
Liangjiang New Area enjoys incomparable advantages such as convenient access to public transportation, a good industrial foundation, sophisticated comprehensive functions, huge development potential - as well as low costs and loose policies. Liangjiang New Area promotes its industrial foundation and capacity, and is building four opening-up platforms along with the industrial base - and investment continues to pour in.
While the development of China's inland area has long been hindered by traffic and logistics, Chongqing, at the upper reaches of the Yangtze, is particularly well suited to play its role as a gateway to western regions.
It boasts a large river port, international airport and railway network that has helped the city become an international trade and logistics hub connecting China, Europe and Southeast Asia.
| | |
| --- | --- |
| Chinese Name: | 两江新区 |
| English Name: | Liangjiang New Area |
| Administered by: | Chongqing |
| Governing regions: | Three administrative districts: Jiangbei district, Beibei district and Yubei district. Also: The north new district, free trade port area, three function districts of industrial development. Three major development projects: Jiangbei Financial district; Yuelai International Exhibition City and Orchard Port.  |
| Management Committee | Chongqing Liangjiang New Area Party Work Committee |
| Address: | No 66 Jinshang Building, Jinyu Avenue, Yubei district, Chongqing |
| Telephone Area Code: | 023 |
| Post Code: | 401147 |
| Geographic  Location: | Chengyu Economic District, Chongqing, Chengdu City Group, north of the Yangtze River, east of the Jialing River |
| Area: | 1,200 square kilometers |
| | |
| --- | --- |
| Population: | Resident population: 2.7 million(2019) |
| Famous tourist spots: | Liangjiang Studios, Garden Expo Park, Longxing Ancient Town, Bayu Folk Culture Village, Tieshanping National Park, Hongen Temple,etc. |
| Airport: | Jiangbei International Airport |
| Railway Station: | Chongqing North Railway Station, Fusheng High-speed Railway Station |
| Harbour: | Orchard Port、Cuntan Port |
| Current Leadership: | Duan Chenggang |
| GDP: | 197 billion yuan(2020) |
| Landmarks: | Jiangbeizui CBD,Yuelai International Exhibition City,Guanyinqiao business district,Chongqing tallest building,Central Park |
| Official Website: |  www.liangjiang.gov.cn |