Fintech reshapes finance, challenges regulation, say experts
Updated : 2017-09-18
( chinadaily.com.cn )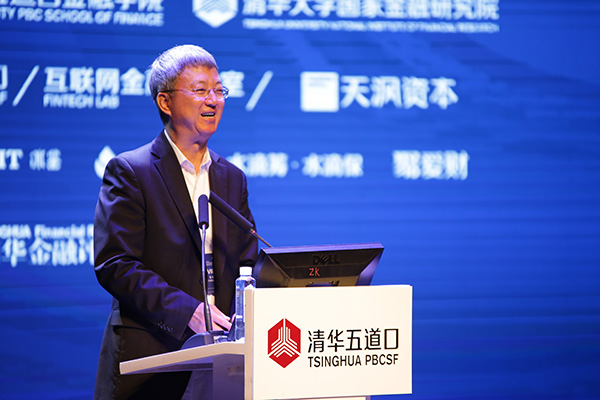 Zhu Min, former deputy managing director of IMF, makes a speech on the 2nd China Fintech Conference Agenda held in Beijing on Sept 17, 2017.[Photo provided to chinadaily.com.cn]
Financial technologies have overhauled the entire ecosystem of finance from the supply side, to demand side and to basic infrastructure and have caused shockwaves to the regulation and legislation, said Zhu Min, former deputy managing director of IMF, on the 2nd China Fintech Conference Agenda held in Beijing on Sunday.
"For deposits, Yu'ebao has appeared; for loans, there are numerous companies such as Ant Financial Service Group and JD.com; for payment, there are Alipay and WeChat Pay; for financing, crowd-funding has already drawn lots of attention; and furthermore, Fintech will overturn the insurance sector in a more 'ferocious' way," Zhu, also chair of the National Institute of Financial Research, Tsinghua University, told participants.
It's obvious that Fintech companies have shocked traditional financial institutions as they have forced them to open up their once internally controlled production process, from design to sales, allowing these tech savvy companies elbow in their way into the finance sector via different entry points, becoming the supply end in the finance sector, he said.
He added that Fintech has also empowered consumers by shortening the distance between them and financial services and by providing them more choices and improving their user experience.
"The third-party payment is a typical case of Fintech changing finance sector's infrastructure and blockchain is another example," Zhu said.