E-town promotes reading
Updated : 2017-05-09
( chinadaily.com.cn )
A series of reading activities will soon be organized in the Beijing Economic-Technological Development Area (E-town) to promote reading among residents, according to local media.
E-town hosted an opening ceremony for its "reading season" on April 19 as part of the worldwide celebrations to mark the 21st World Book Day, an annual event organized by the United Nations Educational, Scientific and Cultural Organization (UNESCO) to globally promote reading, publishing and copyright rules.
Highlights of the opening ceremony included the unveiling of the new book series E-town Stories. The books tell stories of entrepreneurship from E-town that have developed the area into an innovation center in Beijing.
Focusing on technology and innovation, E-town is set to improve its cultural industries with reading promotion being a first step.
E-town is to partner with China National Radio in further activities, including reading salons and book sharing sessions.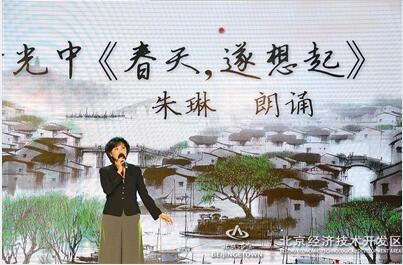 Zhu Lin, a Chinese performing artist, recites a poem for the opening ceremony on April 19. [Photo/bda.gov.cn]