E-town makes good start on investment attraction
Updated : 2015-01-20
( chinadaily.com.cn )
Beijing Economic-Technological Development Area (BDA), or E-town, in the city's Daxing district, recently secured a group of 16 project contracts, totaling 20.4 billion yuan ($3.32 billion).
Eight of these 16 projects targeted raising funding for emerging industries, including integrated circuits, energy conservation and environmental protection, as well as aeronautics & astronautics engineering.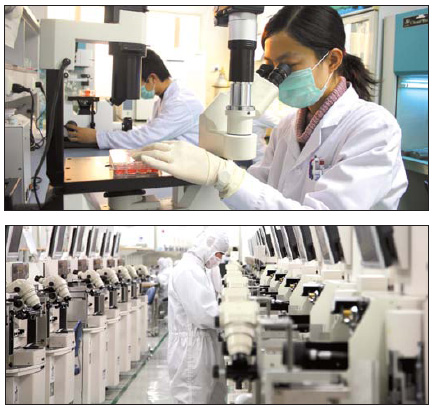 File photo shows China's leading pharmaceutical companies including Beijing Tong Ren Tang and Kangmei in Beijing's BDA. Above: Employees at a communications company workshop in BDA. The area's Xingwang industrial park houses 20 top global communications companies.
Others incorporate industrial project construction, including a new material manufacturer — Dongfangyuhong's headquarter base.
The fund raising projects were launched by Yizhuang International Investment and Development Co and some fund institutes, bringing in a total of 17.3 billion yuan to E-town and promoting its development as a demonstration area of industrial financing.
In order to boost financial services and promote the economy, E-town has been improving a number of financial systems, including credit financing, industrial investment, financing guarantees, science and technology insurance, enterprise credit and listing services.
These six financial systems are part of the "6+1+N" model: "one" refers to the system of industrial finance, which provides a communication platform for the government's preferential policies and services and the financial service providers; and "N" means the industrial parks and enterprises in the area.
This model has proven to be efficient in equity investment, financing guarantees, cooperation between trusts and banking, and entrusted loans in a number of cases.
It has set up more than 100 funds of about 300 billion yuan that support the development of its high-end industries, such as electronic information and biomedicine.
In 2015, the area will focus on its four key industries — electronic information, biological medicine, equipment and automobiles, attracting the settlement of these company headquarters, as well as research and development bases.
Other emerging industries, energy conservation and environmental protection , high-end services, cultural and creative, and airport services, will gain more support from the BDA Administrative Committee.