Xuexiang improves services to attract more visitors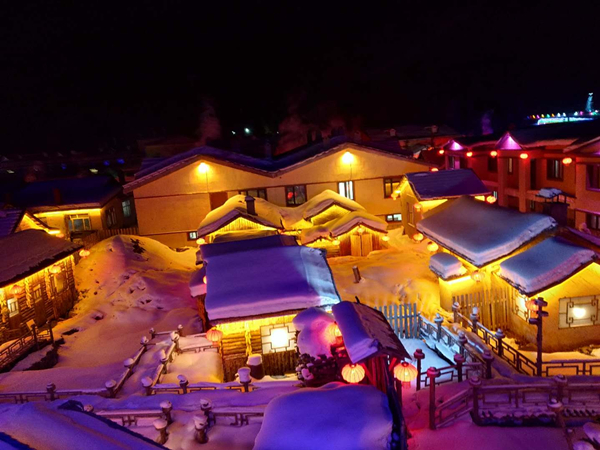 Snow-covered houses at night in Xuexiang, Northeast China's Heilongjiang province. [Photo/chinadaily.com.cn]
Xuexiang, a renowned ice and snow tourist resort in Northeast China's Heilongjiang province has made great efforts to upgrade its services for tourists.
The tourist resort has now established a cleaning and disinfection center as well as the food supply center.
Related working staff members have been sent to famous scenic spots to learn management experiences in order to improve its service quality.
In some of the tourist areas, specific services are provided such as consultation, explanation and luggage transportation.
The area has also improved its functions of hotel management platform, increasing its working efficiency.
Besides, more tourist buses are available on regular basis from Harbin, Mudanjiang as well as Jilin province.
This year, the village will continue to hold a series of activities to attract more visitors such as snow sculpture competition for college students, photo competition and ideas collection for its mascots.
Xuexiang, the former State-owned forestry farm, covers an area of 500 hectares and sits 1,200 meters above sea level.
Xuexiang frequently experiences heavy snowfall and is covered in snow for up to seven months at a time due to the influence of the Siberian cold front and warm current from the Sea of Japan.
Xuexiang has now become Heilongjiang and even China's name card for its ice and snow tourism.
In 2010, Xuexiang was chosen as the 4A-level national tourism scenic spot. It also has been awarded the national civilized village, China's ten most beautiful villages and excellent international rural tourism destination.