Kuang-Chi to amaze CHTF with disruptive innovations
Shenzhen-based Kuang-Chi Institute of Advanced Technology will amaze the 17th China Hi-Tech Fair (CHTF) with a number of disruptive innovation products.
The sought after fair is scheduled to take place from Nov 16 to 21.
The non-enterprise private scientific research institute was founded in 2010 by Kuang-Chi Science Ltd. It will exhibit at the fair an array of products including the Kuang-Chi Martin Jetpack, the "Cloud" airborne vehicle, and the UFO U1 aerial station through an experience hall with the theme of "Indepth Space".
According to Liu Ruopeng, chairman of Kuang-Chi Science Ltd, the "Indepth Space" refers to people's in-depth exploration and utilization of the hyperspace.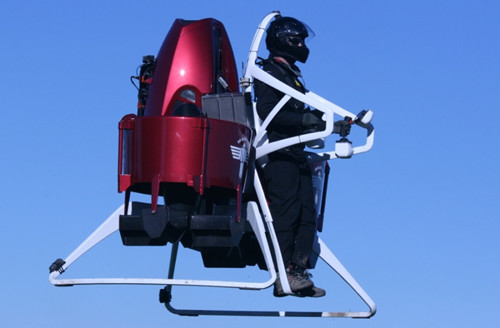 The Martin Jetpack, created by New Zealand's Martin Aircraft Co [Photo provided by Kuang-Chi Science Ltd]
The Martin Jetpack, created by New Zealand's Martin Aircraft Co is claimed to be able to fly nonstop for 30 to 45 minutes at altitudes of up to 1,500 meters. It is powered by a gasoline engine and has two ducted fans. Kuang-Chi Science Ltd is the largest shareholder in the jet pack's production.
It's expected to play an active role in emergences by serving as a first responder after its official sale in 2016, with the retail price estimated at about $200,000.
The jetpacks' invention may also change the way people travel in future. "Probably, in a few years' time, there will emerge a new transportation mode - traveling in the sky," Liu predicts.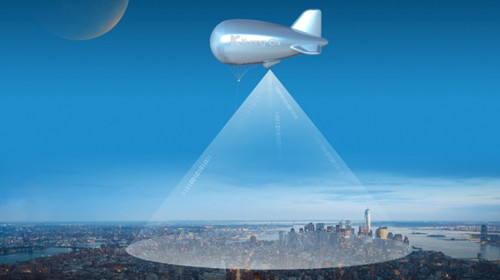 The "Cloud" airborne vehicle developed by Kuang-Chi is seen up in the air above Shenzhen. [Photo provided by Kuang-Chi Science Ltd]
The "Cloud" airborne vehicle, a gigantic silver object as large as thousands of cubic meters, will also appear at the CHTF. It could rise to a height of some 4,000 meters, and capable of providing Wi-Fi services for an area covering 8,000 square kilometers, and conducting ground monitoring and collecting big maritime data.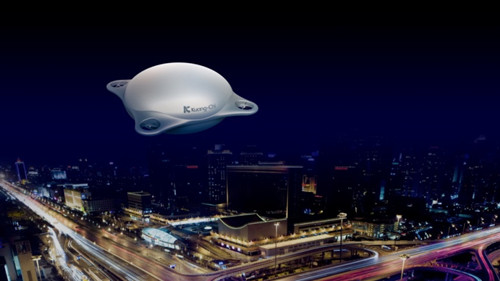 The Kuang-Chi UFO U1 [Photo provided by Kuang-Chi Science Ltd]
Kuang-Chi Institute will also display during CHTF the prototype of its UFO U1 aerial station, which provides better solutions for urban maritime and surveillance, traffic control and live broadcasting.
"It is a totally different concept from drones. Normal drones run just for 20 minutes, but our U1 can stay up for as long as 10 hours," Liu claimed and added that the U1 is powered by hybrid energy instead of the conventional lithium battery found in other drones.
Besides, the model of Kuang-Chi's solarship will also strike a pose at the pavilion. It can take off and land within a range of 100 meters with hybrid power including buoyancy force, aerodynamic force and solar battery. Company officials claim that the solarship is faster than truck transportation, and more agile than aircraft transport.
The chairman had launched his venture in 2010 after obtaining a doctoral degree at Duke University in the United States. Dedicated to make innovations that can change the world, he has been focusing on developing new and disruptive space technologies by using meta-material.
He set up Kuang-Chi Science with four colleagues, who had been doing research together in the US and Shenzhen. The company expanded rapidly and went public in Hong Kong, last September. It now has over 400 employees.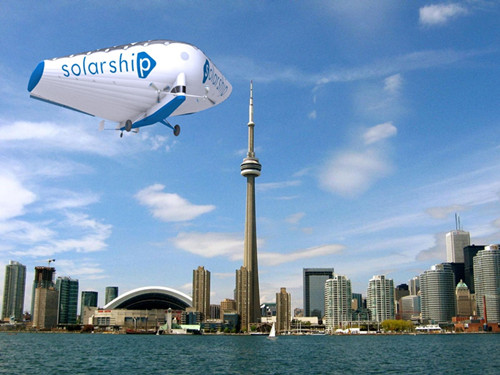 The solarship created by Kuang-Chi Science Ltd [Photo provided by Kuang-Chi Science Ltd]
Overview of CHTF

CHTF is the largest and most influential scientific and technological fair in China.

How to visit CHTF

CHTF offers special service to professional visitors. You can apply for registration as a professional visitor on the CHTF website during the valid time.

How to get SZCEC

SZCEC is only 30 minutes from Shenzhen Railway Station and Luohu check point by bus, or 15 minutes by metro.
Read More