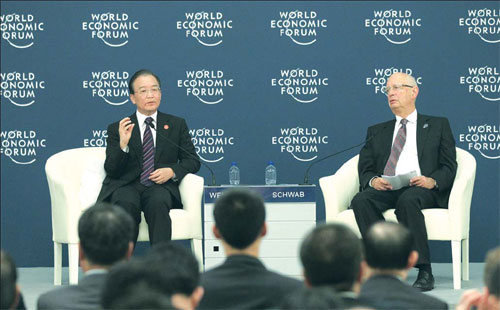 Chinese Premier Wen Jiabao and Klaus Schwab, founder and executive chairman of the World Economic Forum, meet with business representatives at the sixth World Economic Forum's Annual Meeting of the New Champions in Tianjin on Tuesday. photos by Wang Jing / China Daily
Calls for more cooperation on new, cutting-edge technologies
Premier Wen Jiabao on Tuesday assured foreign companies they will be given equal treatment to their Chinese counterparts when entering the nation's strategic emerging industries.
Wen made the remarks when meeting business representatives at the sixth World Economic Forum's Annual Meeting of the New Champions under way from Sept 11 to 13 in Tianjin.
Wen called for more cooperation with foreign companies that have cutting-edge technologies in such emerging industries as electric vehicles, new materials, new energy, health and medicine.
He also promised to enhance protection of intellectual property rights and give equal treatment to foreign companies in government procurement.
IPR protection and equal treatment have been among the issues that most concern foreign companies doing business in China.
Responding to a question on China's role in world financial markets, Wen stressed that China firmly opposes protectionism in trade, investment and finance.
China's financial market has close connections with the world market, Wen said, vowing that China will follow international rules and play its role as a responsible country.
Talking about the ongoing euro zone crisis, Wen said the crux lies in how to find a balance between stimulating growth and fiscal austerity.
"China firmly supports the integration of the European Union and the development of the euro zone," Wen said.
He added that he believes the EU has the capability to handle the temporary difficulty, as it has a strong foundation in economic strength, a strong reserve of science and technology talent and advanced experience in management.
Wen acknowledged that Chinese companies, especially those doing business in EU countries, have suffered losses in the crisis.
"Helping the EU is also helping ourselves," Wen said.
In Sino-US trade, Wen said China never seeks a trade surplus and hopes to buy more products made in the United States.
Both parties in the US presidential campaign have made it a strategy to call on Americans to not to buy products made in China, saying the move would increase US employment.
"But China never bans Chinese customers from buying Nike shoes, iPads or iPhones," Wen said.
As the two biggest economies lack sufficient mutual trust, the US still restricts high-tech products to China, Wen noted, calling for an easing of the restrictions.
"Fair trade between the two countries should, in the first place, follow the rules made by the World Trade Organization," Wen said.
China and the US are each other's biggest trading partner, with bilateral trade hitting $446.7 billion in 2011, according to Chinese government statistics.
More than 60 percent of US companies investing in China have been profitable during the financial crisis, Wen said.
The two countries should increase cooperation in trade, investment and finance on a large scale, Wen said.
"This will help the US to an early economic recovery and increase its employment. It will also uplift the two countries' business cooperation onto a higher level and help maintain a long-term, stable and sustainable development," Wen said.
chenguangjin@chinadaily.com.cn