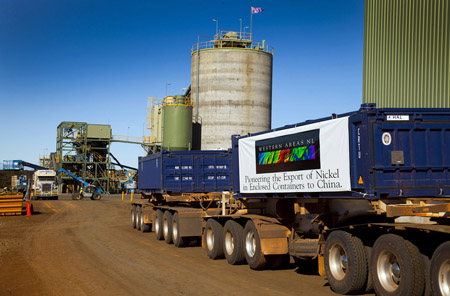 Enclosed containers for nickel ore shipment at Western Areas NL's nickel concentrate plant in Forrestania, Australia. Several mines from Australia to the European Union were mothballed indefinitely when world nickel prices dived in 2008. [Photo / China Daily] 
Australia's Albidon expects to sell 56,000 tons to Chinese refiner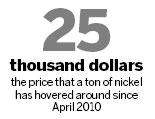 SYDNEY - Australia's Albidon Ltd expects that its reactivated Munali nickel mine in Zambia will produce 56,000 tons of nickel concentrate this year, which will be sold at prevailing spot prices to Chinese metals refiner Jinchuan Group.
At that level, the mine would be the first of its size to resume operations since several mines from Australia to the European Union were mothballed indefinitely when world nickel prices dived in 2008.
Jinchuan is now looking to help the mine increase production over the next several years, with a focus on Africa and Australia, Albidon Chief Financial Officer David Round said on Tuesday.
"Jinchuan has told us it would like to see Albidon grow into a mid-capped producer," Round said in an interview.
Related readings:


 Beijing Yanjing pays 150m yuan to acquire Jinchuan


 Jinchuan to offer grand prize for tourism photographers


 Jinchuan hits acquisition trail


 China Jinchuan plans IPO in H1 of 2011
Jinchuan owns 49.9 percent of Albidon, with an option to acquire up to 74 percent.
Production from the Albidon mine was halted in mid-2008 after a dramatic fall in prices, leaving operating costs higher than what Albidon could sell its nickel for.
Nickel prices doubled between April 2009 and April 2010 and have remained relatively stable ever since at around $25,000-$26,000 a ton.
At the time prices crashed, Jinchuan, which holds interests in other Australia-based nickel miners, including Western Areas NL, Panoramic Resources Ltd and the MMG division of Minmetals Resources Ltd, held only about 4 percent of Albidon.
Jinchuan lifted its stake after helping pay off money owed to Barclays Capital, retaining rights to buy 100 percent of mine production in concentrate form at prevailing London Metal Exchange spot prices, according to Round.
"At least in the short term, I think we could see some spikes in the price and we want to be exposed to that," Round said.
"If you look at the 27-month-forward nickel price, it's still around $25,000 a ton, which is very attractive for us," Round said. "Our cash costs are only around $15,435 to $17,640 a ton."
Round said that he had received indications from Jinchuan that the company held no designs on acquiring Albidon outright, despite holding convertible notes, which if exercised could deliver the Chinese firm a further 310 million shares and lift its stake to 74 percent.
Another Zambian mining company with an Australian owner, Equinox Minerals Ltd, has been the subject of two recent takeover attempts. The second, by Minmetals and worth $6.3 billion, remains active.
In a meeting with Jinchuan's chairman in Hong Kong in March, Round said that Jinchuan had pledged its support for Albidon's growth strategy and to maintain its current stake.
"Everything we've talked about since then is about growing the company and Jinchuan keeping its stake at 50 percent," he said.
Close on the heels of the reactivation of the Munali mine, Canada's First Quantum Minerals Ltd is spending about $190 million to bring the Ravensthorpe nickel mine in Australia back into production by May 2011 at a rate of 39,000 tons.
Also, two new ferronickel operations, Vale SA's Onca Puma and Anglo-American PLC's Barro Alto, both in Brazil, are scheduled to start up. Between them they will produce around 90,000 tons of contained nickel each year once in full production.
Reuters