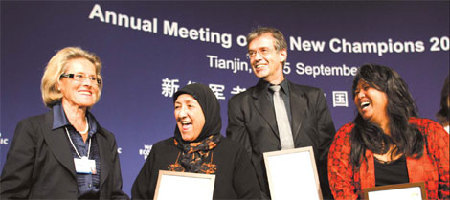 Hilde Schwab (left), co-founder of the Schwab Foundation for Social Entrepreneurship, honors this year's award winners Sakena Yacoobi (second left), Andy Schroeter (second right) and Gemma Bulos. [Zhang Wei / China Daily] 
Three outstanding social innovators that work at the grassroots level were granted Asia's "Social Entrepreneur of the Year" award on Tuesday by the Schwab Foundation for Social Entrepreneurship at the Summer Davos Forum.
They are Gemma Bulos, who set up the A Single Drop for Safe Water in 2006 in the Philippines; Andy Schroeter, who runs Sunlabob Renewable Energy in Laos and several other countries; and Sakena Yacoobi, who led the Afghan Institute of Learning to provide health and education services to Afghan women and children.
Bulos told China Daily that she feels incredible to meet people who share similar ideas and experiences at the forum.
"It's not easy to be in the social sector and do it in a sustainable way," she said.
"It's really exciting to have this kind of forum to recognize these people."
Established in 1998, the Schwab Foundation has so far awarded nearly 200 social entrepreneurs across the world.
The winners should have innovative ideas and solutions to deal with social problems and their activities must directly benefit people's lives, Hilde Schwab, co-founder and chairperson of the foundation, told China Daily.
Also, their enterprises should be self-sustaining instead of relying on government subsidies, she said.
The most ideal situation is that their models and experiences could be replicated in other countries and regions that encounter the same problems, said Schwab.
With years of experience working with social entrepreneurs, Schwab noticed that people from developed and developing countries face different social problems.
Developed countries' problems are more about taking care of elderly people and children, and providing employment for young people; while in developing countries, major social issues include clean water, basic education, and fighting against poverty, she said.
Last year, Hong Kong resident Timothy Ma was awarded by the foundation for his contribution to the local Senior Citizen Home Safety Association, becoming the only Chinese winner so far.
Schwab said she would be happy to see more prizewinners from China in the future.
"I am sure that there is big potential for social entrepreneurs to grow in China," she said.
"I am also sure that there are social entrepreneurs around (in China), and it's our job to find them."