SHANGHAI, July 20, 2009 – The Cisco-Fudan-Stanford (CFS) Supply Chain Leadership Institute officially launched its first program today. About 40 senior executives from multinational and local companies in China became the first participants, seeking ways to improve their supply chain management capabilities and ultimately sharpen their competitive edge in the global marketplace.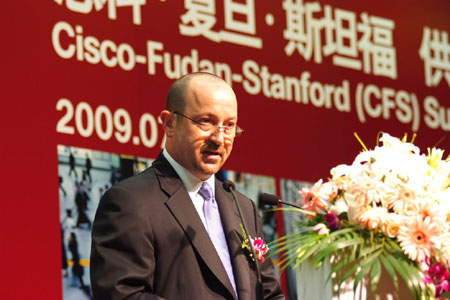 Angel L. Mendez, senior vice president, Customer Value Chain Management, Cisco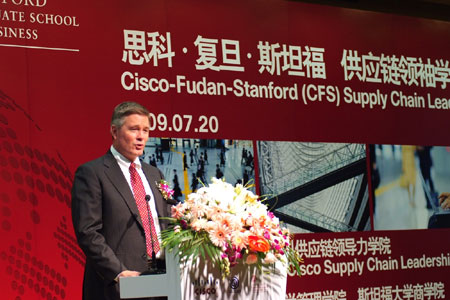 Jim Sherriff, chairman and CEO of Cisco China 
Based at Fudan University, the CFS Supply Chain Leadership Institute is sponsored by Cisco and jointly developed as a collaboration between Cisco, the School of Management at Fudan University (FDSM) and the Stanford Graduate School of Business. The Institute offers advanced management training to leaders of Chinese companies, with the primary objective of driving thought leadership in supply chain management. This week-long program provides intensive training designed to help participants gain the skills necessary to operate as truly global leaders.
China's economy is accelerating its pace of globalization and driving to build an innovation-based economy at a time when world-class supply chain management has evolved beyond simply manufacturing and shipping products. Supply chain leaders are confronted with new complexities and more challenges than ever before. Continuous learning has become essential for them to keep abreast of the latest trends and best practices in order to succeed in the global marketplace. The CFS Supply Chain Leadership Institute is an acknowledgement of this need.
Institute participants will have the opportunity to learn and share best practices in lifecycle management and logistics, as well as in managing strong relationships across global networks of suppliers and other supply chain partners. They will discuss the key issues facing supply chain organizations today, such as corporate social responsibility and environmental sustainability. A major emphasis will be on what is required to transform the traditional supply chain that makes and delivers products into a "value chain" that provides competitive advantage to a company and its customers.
Participants will focus on seven modules, including Supply Chain Management Strategies, Supply Chain Operations Best Practices, Supply Chain Logistics Best Practices, New Product Introduction and the Supply Chain, Emerging Supply Chains, Supply Chain Partnerships, and Managing Change. Cisco experts and Fudan and Stanford professors will deliver the modules. Participants who complete the program will obtain a certificate jointly awarded by Cisco, FDSM and the Stanford Graduate School of Business.
Mr. Qi Chengyuan, Director General of the High-Tech Industry Department of the National Development and Reform Commission (NDRC) of China, said, "CFS Supply Chain Leadership Institute is an important part of the MOU signed between NDRC and Cisco in terms of talent cultivation. As the world is undergoing a dramatic development of economic globalization, effective integration of global resources has become critical to the operation of companies. The level of supply chain management is now a key standard of companies' competitiveness, which is not only about cutting cost, but more importantly about integrating resources. CFS Supply Chain Leadership Institute will play a key role not only as a platform for communicating new management concepts, but also as a bridge for the companies to enhance cooperation. We believe that this institute will further drive companies from China and abroad to join hands and develop together by leveraging each others' advantages to achieve win-win."
"By combining Cisco's best practices with valuable academic insights from Fudan and Stanford, we are able to provide today's supply chain executives in China with an unrivaled learning experience," said Angel L. Mendez, senior vice president, Customer Value Chain Management, Cisco. "We want to continue to support China's ongoing development by helping supply chain organizations achieve operational excellence, increase customer satisfaction and gain competitive advantage not only in China but also around the world."
The Institute's program combines the world's best supply chain experts and practical corporate experience, with the goal of building a strong platform to foster high-potential talent and thus contribute to further improving supply chain management capabilities in China. Cisco is recognized as having one of the best supply chains in the world by industry leaders, including AMR Research, which ranked Cisco #5 in its recent Supply Chain Top 25 listing. The School of Management at Fudan University (FDSM) has accumulated a solid foundation in the academic research of supply chain and logistical management. The Stanford Global Supply Chain Management Forum is a leading research institute that advances the theory and practice of excellence in global supply chain management.
"Today, we welcome the first participants to the CFS Supply Chain Leadership Institute and hope that all participants will have a fruitful journey with the program," said Professor Lu Xiongwen, dean of FDSM. "FDSM's mission is to integrate the best educational resources from both home and abroad, and use them to develop top-tier management talent. By working with Cisco and Stanford Business School, we are confident that the program will foster high-end talent, serving the twin needs of social and economic development. It will contribute to the progress of China's internationalization."
Professor Hau L. Lee, an internationally known supply chain management scholar and director of the Stanford Global Supply Chain Management Forum, is a faculty member with the CFS Supply Chain Leadership Institute. "China is a rapidly developing new economy, which presents a varied set of developmental challenges and opportunities in terms of supply chains," said Lee, who is also the Thoma professor of Operations, Information, and Technology at Stanford Business School. "I look forward to sharing and discussing with participants from China insights on operating successful supply chains in emerging economies."
Cisco has invested extensively in China. The National Development and Reform Commission (NDRC) and Cisco signed a memorandum of understanding on April 17, 2008, with Cisco committing to invest US$16 billion over the next five years in China.
Jim Sherriff, chairman and CEO, Cisco China, said: "Cisco is committed to a 'Cultivated Innovation' model aimed at boosting local innovation in China through capital, technology, process expertise, incubation resources and leadership investments. The opening of the Supply Chain Leadership Institute to participants marks another concrete deliverable that highlights Cisco's long-term commitment to local innovation, partnerships, and the development of next-generation leadership in the country. Through this program, we hope to share our best practices and pursue new local and global market opportunities together with our partners."
About Cisco
Cisco, (NASDAQ: CSCO), is the worldwide leader in networking that transforms how people connect, communicate and collaborate. Information about Cisco can be found at http://www.cisco.com. For ongoing news, please go to http://newsroom.cisco.com.