If honesty is the best policy, it is nowhere more so than in scientific research and the academia in general.
That explains why professors have always been held in high esteem and so have institutions of higher learning.
Yet, repeated exposures of cheating and plagiarism by professors in recent years have brought to light an unholy link between academic papers and dishonesty.
The latest exposures of cheating in academic research papers published in several overseas magazines last year add to the sad story. They seem to have come as another bombshell further shattering the public credibility of academic research in institutions of higher learning.
The fact that an academician of Chinese Academy of Engineering, along with the prestigious Zhejiang University, is involved points to a deeper malaise. It lends further credence to the increasingly strong accusations about a contaminated academic environment and lack of professional ethics among professors.
In several papers showing how a herbal medicine impacts cardiac infraction, the same figures were used for different experiments. And the same papers have been submitted to different magazines for publication after minor changes were made.
Further investigations are yet to be conducted into how the research team headed by the academician in Zhejiang University had plotted the cheating in more than a dozen papers.
But this biggest-ever academic scandal is for sure a wake-up call that the Chinese universities are facing a crisis of credibility.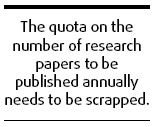 And behind the crisis is the phenomenon that quite a number of professors or so-called scholars have benefited from their dishonest "dissertations" and "research programs".
As everyone knows, good breakthroughs do not come without hard work, but hard work does not necessarily bring about any substantial result. This is the cruel truth about academic study. This also means anyone dedicating his or her life to academic research should never assume that his or her work will necessarily produce worthwhile results.
It should be always those who have truly dedicated themselves to academic studies without bothering about fame and material gains who will hopefully make the greatest contributions to scientific progress.
But some academics' pursuit of fame and material gains, even with dishonest means, is eroding fundamental principles for academic research: hard work and spirit of dedication.
Their "success" will quite probably encourage more to follow their examples and thus further deteriorate the academic atmosphere.
We need a thorough investigation into this scandal primarily to warn the entire academic community against the dangers of dishonest practices. The bad apples involved should be severely punished to serve as a deterrent to others.
Actually we need something much bigger - an overhaul of the mechanism for academic study in institutions of higher learning. The quota on the number of research papers to be published annually by professors needs to be scrapped. This has exerted pressure on professors, and some are forced to cheat or plagiarize in order to get their papers published.
The exposure of all irregularities behind this scandal may probably provide useful ideas for thoroughly restructuring the management of academic studies.
(China Daily 02/04/2009 page4)