GUANGZHOU: Skilled migrant workers here are being offered low-cost housing and free education for their children, as part of a series of measures to help them counter the effects of the financial crisis, the provincial government said yesterday.
People with technical qualifications can now enjoy the same housing benefits as Guangzhou's permanent residents, and rent properties for as little as 1 yuan (15 cents) per square meter, the labor and social security bureau said in a circular.
A typical family apartment would normally cost about 10 yuan per square meter to rent.
The new measures, agreed on Tuesday, also include the provision of free education to the children of skilled migrant workers, freeing them from the burden of school sponsorship fees.
They also seek to provide greater protection from unscrupulous employers.
For example, if a company is found guilty of withholding wage payments, it will be blacklisted, making it unable to apply for bank loans or business licenses, the circular said.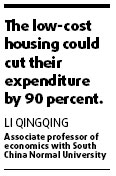 Also, members of the social security scheme who lose their jobs will be given priority in the processing of insurance claims, and contributions to the scheme will be lowered to make it accessible to more people, it said.
Li Qingqing, an associate professor of economics with South China Normal University, said the measures are good news for migrant workers, whose confidence is low after a slew of factory closures and mass redundancies.
With the offer of low-cost housing and free schooling for their children, migrant workers will be free of some of their financial burdens, and will be more likely to want to settle down in the city, she said.
"The low-cost housing could cut their expenditure by 90 percent, while the free schooling is worth several thousand yuan a year," she said.
Mu Ruilong, a 32-year old from the Guangxi Zhuang autonomous region, who is currently working as a technician with a chemical firm in Guangzhou's Huangpu district, said he was delighted by the news.
"All I have ever wanted is an equal right to education for my son, and the chance for me and my family to join the low-cost housing program," he told China Daily.
"I hope the government puts the measures into practice as soon as possible, then I can bring my 2-year-old son here to live with me."
(China Daily 12/05/2008 page5)