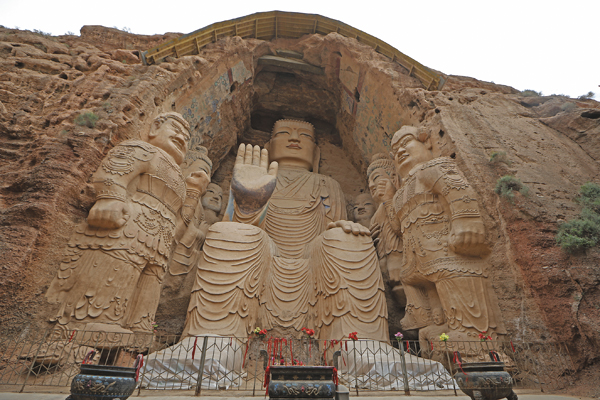 The Tiantishan Grottoes in central Gansu province's Wuwei county were dug about 1,600 years ago. Tianti means "ladder to the sky" and shan means mountain. [Photo by Chen Xi/For China Daily]
Hexi Corridor in Northwest China's Gansu province refers to a string of oases stretching for some 1,000 kilometers from the Wushaoling hillside near Lanzhou to the Jade Gate, at the border of Gansu and Xinjiang Uygur autonomous region. Photographer Chen Xi captures the scene.
An important route linking China and the West since more than 2,000 years ago, the corridor is a treasure land of cultural heritage. Toughened by winds and sands of the Gobi Desert after thousands of years, the temples, grottoes, fortresses and relics along the Hexi Corridor are like pearls on a ribbon, shining with lasting elegance. Major cities in Hexi Corridor include Wuwei, Zhangye, Jiuquan, Jiayuguan and Dunhuang. The Mogao Grottoes of Dunhuang are well known as a cultural wonder, but the other lesser famous cities boast splendid cultural heritage, too. The Tiantishan Grottoes in Wuwei; Matisi in Sunan, a prefecture of Zhangye; the giant reclining Buddha statue in Zhangye; the ancient tombs of Jiuquan and the magnificent military fortresses in Jiayu Pass, have survived social turbulences and natural disasters, waiting for those lucky enough to appreciate their seasoned beauty.