"It's New Year. We're purchasing robbery suspects for 3,000 yuan ($440) each," reads a slogan hanging from the gate of the local administration for industry and commerce in Zhangjiajie, Hunan province.
A photograph of the red banner found its way on the Internet and drew a lot of criticism from netizens, who believed authorities were treating criminal suspects "like goods not human beings", local media reported yesterday.
Another similar slogan promises 2,000 yuan to anyone who turns in a burglary suspect.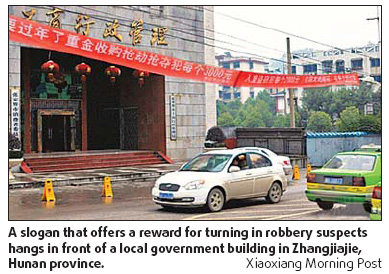 Internet users blasted the use of such "ridiculous" slogans for cracking down on crime, saying they were tarnishing the image of the government.
But there were others who said they appreciated the humor hidden between the lines.
The local government admitted hanging the banners but said the criticism they had drawn was unreasonable, according to the Xiaoxiang Morning News, a local tabloid.
"The slogans are not meant as a joke. We came up with the words so that more people can remember them," an official surnamed Peng told the paper.
The banners were hung on the gates last year when the local government launched a crackdown on crime, Peng said.
Peng said since most people detested criminals the government did not think anyone would have a problem if they were referred to as "goods".
"We didn't have any other motives," he added.