A dream about discovering treasures on a mountain has driven a farmer to spend 16 years chiseling away at the slopes, reported Shenghuo Xinbao Wednesday.
Ma Qingrong, 62, from Dayao County, Southwest China's Yunnan Province, dreamed 16 years ago about finding a huge fortune hidden on Mount Maanshan, 20 kilometers away from the village he lives in.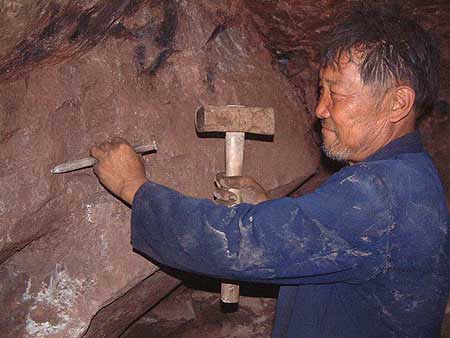 Ma Qingrong, a 62-year-old a farmer in Dayao County, Southwest China's Yunnan Province, chisels away at Mount Ma'anshan in an attempt to uncover treasures that appeared to him in a dream 16 years ago. [Shenghuo Xinbao]
"In the dream, I was led by a girl clad in black dress to a mysterious stone palace, where I found lots of important scriptures, a chest of precious treasures, and a stele for Zhuge Kongming (an accomplished strategist in China's Three Kingdoms Period). Legend has it that Zhuge Kongming once launched a crusade nearby. I believe what I dreamed is true," Ma told the newspaper.
Ma set up a shed on the 2,000-meter-high mountain on October 15, 1990 and has spent every day since digging and chiseling in the mountain.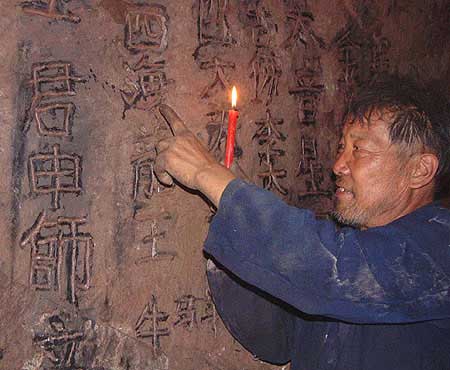 Ma Qingrong points to the characters he carved on the mountain rocks. [Shenghuo Xinbao] 
"It was like someone was holding a whip at my back and forcing me to go ahead with the task. Beginning on March 15, 1998, I lived, ate and slept in the cave I made, digging whenever i got the time. Sometimes I work for over ten hours a day. I want to find those treasures when I am still alive," Ma told the newspaper.
Stone steps and characters are carved into the 2-meter-high and one-meter-wide cave dug by Ma, and, farther down, stalactites.
"I didn't expect to see caves inside when I started digging," Ma, who has dug everything by hand, said. "I am afraid the explosives may destroy the treasures. I can't remember how many tools I have used."
"My actions were not understood by my family in the beginning, and some villagers thought there was something wrong with my head, but when stalactites were discovered, all of them were moved. A local entrepreneur even spent 6,000 yuan to buy water pipes for me," Ma told the paper.
"According to what the girl said in my dream, I can find the treasures within one or two years' time." Ma said.