PARALYMPICS
/
News
---
French president lauds Beijing Paralympics

Xinhua
Updated: 2008-09-19 15:07
PARIS -- French President Nicolas Sarkozy on Thursday hosted the French Paralympic delegation and disabled Chinese athlete Jin Jing at the Elysee Place and said the Beijing Paralympic Games achieved "a huge success."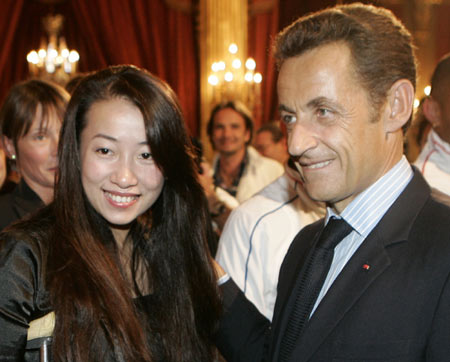 Jin Jing (L) meets French President Nicolas Sarkozy during a ceremony to welcome the France's paralympics team back from Beijing at the Elysee Palace in Paris September 18, 2008. [Agencies]
The 12-day sports event, which ended Wednesday, is a success for the international Paralympic movement, Sarkozy told the French Paralympians and Jin, the wheelchair fencer and Olympic torchbearer known for protecting the torch from protestors in the Paris leg of the relay.
Related readings:


 Jin Jing meets Sarkozy at Elysee Palace


 Jin Jing receives Sarkozy's sympathy note


 Sarkozy to attend Olympic opening ceremony


 Lovely girl Jin Jing
He said that as more than 4,000 athletes from nearly 150 countries or regions competed in the Games, making the Beijing Paralympics one of the most important sports events in the world.
The Beijing Paralympics also drew unprecedented media coverage, with about 4,000 journalists involved in reporting the event, the president said, adding that in comparison, about 2,50 the number of reports covered the 2004 Athens Paralympics.
Sarkozy extended special welcome to Jin, saying the athlete showed "extraordinary courage" when facing rough treatment during torch relay in Paris.
"You have made your country proud, you have upheld the values of sports. France welcomes you today with deep friendship and strong emotions," he told Jin.