MEXICO CITY -- The first group of the Paralympic Mexican delegation arrived on Thursday early morning at Mexico City International Airport, where they were welcomed by relatives and friends at the Terminal 2.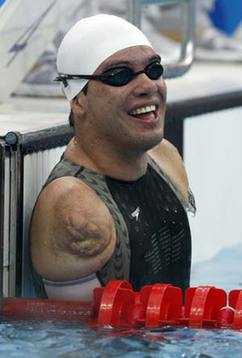 Mexico's Juan Reyes reacts after the men's 50m backstroke S4 heats at the Beijing 2008 Paralympic Games September 8, 2008.[Agencies] 
At his arrival Mexican swimmer Juan Ignacio Reyes, three times champions at Paralympic Games, said that to win for the third time a gold medal is like a dream and that now he thinks on London 2012.
Reyes, 26, who set world record during the 50m backstroke, with a time of 42.71seconds, said that to have won encourage him to think on London 2012.
Reyes also said that he will take a break and then train for the World Cup in Holland.
Judokas Eduardo Avila (gold) and Lenia Ruvalcaba (silver), said that they will seek to classify for Olympic Games of London 2012 and not for the Paralympics.
Meanwhile Avila and Ruvalcaba coach, Hilario Avila said that the idea to compete for a place during the Olympic Games of London, began during the Paralympic competition in Beijing.
"Both consider it is possible because the Paralympic rules do not impel to compete in a conventional sport and it is also allowed by both federations and their disability it is not limiting," Avila said.
Eduardo Avila said that it will be difficult to give that step in Mexico, because in this country Paralympic athletes do not compete against "conventional" athletes.
Related readings:


 Mexican president congratulates Paralympic gold, silver winners


 Beijing Olympic Games a good result for China: Mexican official


 Mexican Paralympics delegation travel to Beijing


 Mexican gold medalist to be rewarded US$230,000
However, Ruvalcaba said that both decided to seek their clasification to the Olympic Games and she added that "we know it is difficult, but we will go for it with everything and it will depend on our training."
Also Paralympics sportsmen Arnulfo Castorena Velez and Catalina Diaz Vilchis arrived at Mexico.
Paralympic sportswomen Doramitzi Gonzalez and Patricia Valle Benitez will arrive on Friday.
Mexican Paralympic sportsmen won 20 medals in Beijing 2008, 10 gold, three silver, and seven bronze, during Athens 2004 they won 14 gold, 10 silver and 10 bronze.