PARALYMPICS
/
Photo Gallery
---
Games given two thumbs up

Xinhua
Updated: 2008-09-18 14:23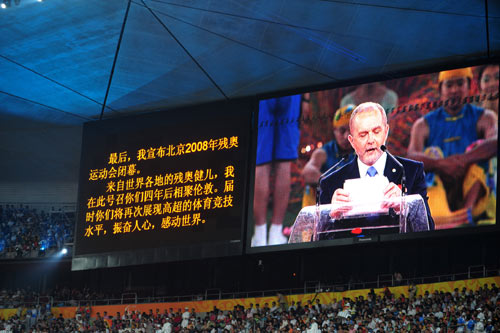 A screen shows International Paralympic Committee (IPC) president Philip Craven as he delievers a speech in the Nationa Stadium at the closing ceremony of the Beijing Paralympic Games, September 17, 2008. [Xinhua]
International Paralympic Committee (IPC) president Philip Craven Wednesday praised the Beijing Paralympics for its quality.
He said he had received a very positive feedback.
"The Games has been great. I think everybody realizes that," Craven said at a press conference in the Main Press Center before the closing ceremony.
"I have just had breakfast at the Swiss Hotel and people have been coming up and saying congratulations or giving me the thumbs up," he said.
Craven said the Beijing Paralympics had attracted historic high media coverage and attention from around the world, and more athletes had competed than ever before.