PARALYMPICS
/
Photo Gallery
---
You've got mail

AFP/Xinhua
Updated: 2008-09-18 10:12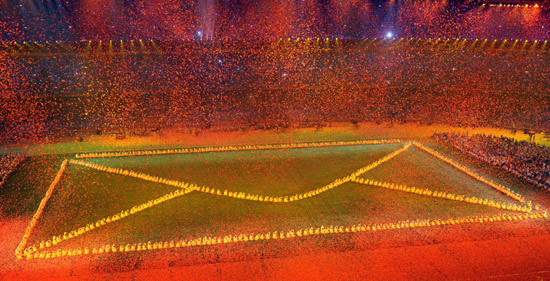 Beijing invites the world to join its tribute to a better future with a giant envelop formed by dancers at the Bird's Nest during Wednesday's Closing Ceremony. [Xinhua]
The art performance, named "A Letter to the Future", consisted of six parts: Red Leaves of Fragrant Hill, Sowing, Watering, Harvest, Celebration, and Mail it to the Future.
At the beginning of the performance, small yellow flowers slowly bloomed on the green lawn to form Chinese characters and English letters of this segment, making the 7,560-square-meter performance area a huge "envelope".
"All the songs and dances delivered a message that the disabled people will never give up and will go for their most beautiful dreams along with the able-bodied," said Zhang Jigang, executive artistic director of the ceremony.

The "letter" was also a blessing message from Chinese people to the disabled people all over the world, encouraging them to strive for happiness, according to Zhang.
He said the mailboxes temporarily set up in the Bird's Nest echoed the theme as every spectator could write a real postcard inside the stadium to whoever he wanted to and all the postcards will be sent with specially-designed postmark on Thursday.
"It's a real letter to tomorrow," Zhang said.