Defending champion Brazil wrapped up the football 5-a-side gold medal Wednesday in a nail-biting clash against Paralympic debutant China.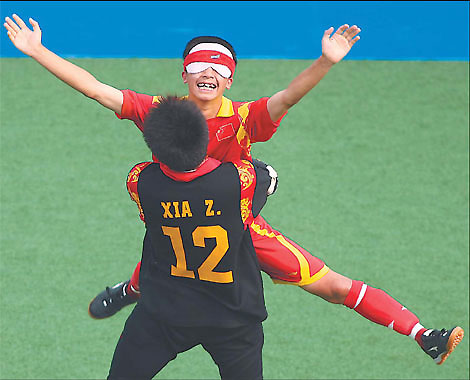 China's Xia Zheng (No 12) hugs Wang Yafeng after they won silver in football 5-a-side.
The Brazilians grabbed a 2-1 win courtesy of a Marcos Felipe penalty goal with just 25 seconds left on the clock.
The South American powerhouse remained unbeaten throughout the six-team Paralympic tournament, while China finished a very respectable second.
Athens silver medalist Argentina beat Spain in a penalty shootout to win bronze, while Great Britain clinched fifth spot in similar fashion against South Korea.
After a nervous start from both teams, ace Chinese striker Wang Yafeng scored the match's first goal after 24 minutes with a close range shot that gave goalkeeper Fabio Ribeiro Vasconcelos little chance. Brazilian striker Ricardo Alves leveled five minutes after the break with his fourth goal in three matches.
When the game seemed destined for a penalty shootout, China committed its fourth foul of the second half, this one inside the penalty box.
"I was thinking of taking a low shot but I changed my mind in the last second and decided to hit it high because the goalkeeper was stopping all our low shots," Felipe said of his game winner.
"Thank God it went in."
The reigning champion was surprised by the host's performance.
"I was very surprised to find China so strong in this sport. It is a brand new experience for our team to play China," Brazilian head coach Antonio Padua Alves da Costa said at the press conference.
Brazil's top scorer, Ricardo Alves, said: "It was tough because we were trailing. That's dangerous, especially when you play such a great team as China and play them at home."
Some disappointed Chinese players burst into tears after the match.
The team, formed just two years ago, was the youngest in the tournament with an average age of only 20 years and two months.
"Silver is not enough for us," said head coach Dong Junjie, clearly emotional.
"What they (the Chinese players) wanted was the gold. You cannot imagine how much pain we have gone through for this Paralympics. We need to look to the future.
"We may appear again at the World Championships, which will take place in two years. You will see our young guys striving for gold."
Football 5-a-side uses a ball with a bell in it and was introduced to the Paralympics in Athens four years ago.
Every match, with two halves of 25 minutes each and a 10-minute half-time break, is played between two teams with four blind athletes and one full-sighted or visually-impaired goalkeeper on the pitch.
Six teams competed in Beijing with the best two teams from the preliminary round playing the gold medal match.
Each team has a guide behind the opponent's goal to direct the players when they shoot.