Among a sea of cheering spectators, Chinese runner Qi Shun set a world record, winning the host its first Paralympic marathon gold Wednesday at the Bird's Nest.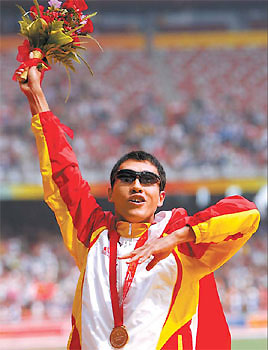 Qi Shun of China acknowledges spectators' applause on the podium after winning the gold in men's marathon T12. He set a world record with 2:30:32. [Xinhua]
It was a moment of sheer joy for visually impaired Qi, who clocked 2:30:32 in the men's marathon T12.
"This is China's first marathon gold in Paralympic history - it feels like a dream," Qi told The Paralympian just moments after the race. "I cannot think of any words to describe what I am feeling now. It's unbelievable."
Twenty-six competitors chased the former world record time of 2:32.43 set by Polish runner Waldamar Kikolski, but only Qi managed to beat it by 2 min.
Colombian Elkin Serna secured his first Paralympic medal, the silver, in 2:31:16, ahead of Russian bronze medalist Ildar Pomykalov, who finished with a time of 2:33:27.
"This was a very difficult competition," said 23-year-old Serna. "I tried to stay in front, but the pace was tough. I'm happy since this is a good time for me."
"From a young age, I loved athletics. In the past few years, I have focused on the marathon," said 37-year-old Pomykalov. "I sustained some injuries but I probably didn't overcome them since I didn't win the gold."
"I wouldn't have broken the record without my rivals' excellent performances, so thanks to the silver and bronze medalists," said 24-year-old Qi, from Nanjing in east China's Jiangsu province.
Inheriting iridocoloboma, a congenital defect of the iris, from his mother, Qi's visual acuity was 0.02 at birth. This only allows him to see a person's vague shape if standing face-to-face.
At his first Paralympic Games in Athens, Qi competed in several track and field events, but ranked only 9th in the 10,000m and 10th in the 5,000m.
He began training for the marathon four years ago, running 200km every week. Because of his visual impairment, he ran mostly at familiar training venues rather than on the road. His hard work not only paid off Wednesday, but also gave him a profound understanding of the sport.
"Marathon is a difficult race and a long process, you need to maintain a stable and calm mindset. When you reach breaking point, you need to refocus and trust yourself to overcome it," he said. "It is a sport that calls for patience."
Qi's race was the final athletics event held over the past 10 days at the Bird's Nest; and 1,041 athletes from 118 countries participated in 160 final events, which broke 122 world records.
Dominating the competition both on the track and field, China topped the athletics medal tally with 38 gold, 21 silver and 18 bronze, for a grand total of 77 medals.