Standing on top of the Paralympic podium, blind sprinter Liu Xiangkun thought he should give half of his gold medal to Chen Liang, his guide.
"I was wondering why there wasn't a gold for Chen. I think my medal belongs to both of us," Liu told China Daily Wednesday.
On Tuesday, the 28-year-old won gold as part of China's 4x100m relay T11-T13 team, which set a new world record in the process.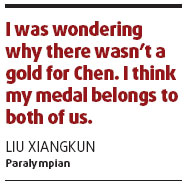 Liu, who was born blind, ran the first leg of the race, as he was the only one who required a guide.
"My guide is the real hero behind my success," he said.
A sports major at the prestigious Peking University, Chen, 24, began guiding Liu at the end of last year. Linked to Liu with an elastic band, the Beijinger helps stop Liu from running into the wrong lane.
"When he goes fast, I go fast; he slows down, I follow", was how Chen described his role.
Although Chen did not get a medal, he did win rousing applause from the huge crowds in the Birds' Nest, as he guided his partner onto the podium's top spot.
"I was so excited when I heard the national anthem. My brain just went blank," Chen said.
As well as the relay, the two had earlier competed in the 100m and 200m T-11, but failed to win a medal in either. Liu did finish 4th in the 100m, however, the best ever show by a Chinese Paralympian.
By the time the relay came around, the pair was hungry for a medal, Chen said.
"When I told Liu we had won and broken the world record, he fell straight down onto the track," Chen said.
"It was such a huge relief."
With the pressure off, the two men began their celebrations back at the Paralympic Village; the party went on until 2 am Wednesday morning.
Liu said he also made lots of phone calls to friends and family, thanking them for their support that helped steer him to success.
But Chen is the person he most has to thank, he said, as with his help, his progress, and speed, on the track has been faster than ever.
Liu said he measures his performance not in terms of time, but in the number of paces he has to make to reach the finish line.
"I needed to run 55 steps in the past, but since Chen has been my guide, I need only 50," Liu said, adding that equates to him being about half a second faster.
He said having Chen around makes his whole life easier and more enjoyable.
There are seven guides on the Chinese track and field team. As Liu's guide, Chen accompanies him almost 24 hours a day. They sleep in the same room and eat together.
For Liu, having Chen around lets him enjoy the simple pleasures in life. Every time Chen plays a computer game, he describes it to Liu.
"I can't see, but I can enjoy by visualizing it from Chen's description," he said.
Unfortunately for the two men, they will soon be divided once again, as Liu must go back to Liaoning, his home province, to continue his training with the track and field team, and Chen has to go back to university.
Talking about the future, the two expressed their wishes to work together at another Paralympics.
"Give us four more years together, and we'll be ready to win the gold medal in the 100m at London 2012.
"And not just in the relay!" Liu said.