PARALYMPICS
/
News
---
Chief organizer: Beijing Paralympics festival for world's disabled

Xinhua
Updated: 2008-09-17 21:21
BEIJING - The Beijing Paralympic Games has been a grand festival for disabled people all around the world, said chief organizer Liu Qi at the Games' closing ceremony on Wednesday night.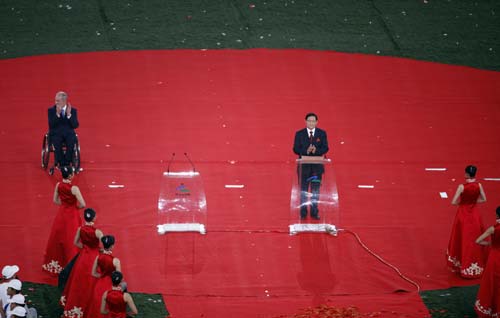 Liu Qi (C), chief organizer of the Beijing 2008 Paralympic Games addresses to the closing ceremony of the Games in the National Stadium September 17, 2008. [Xinhua] 
"The Paralympic Games is a grand event embodying the concepts of transcendence, integration and equality," he said in a packed Bird's Nest stadium.
"The Paralympians have shown their positive attitude toward life, such as self-respect, self-confidence, self-improvement and self-reliance. They have sung a hymn to humanity by displaying their sporting excellence," he said.
"Every Paralympic athlete has provided a unique interpretation of the value and significance of life through his or her fortitude and perseverance. It is indeed an exciting and educational experience to watch their performance in competition," he said.
Liu said the Games has also generated changes in the host city and country.
"Inspired by the Paralympic Games, more than 300,000 people with a disability in Beijing further integrated themselves into society, experiencing not only the charm of the Games but also the enthusiasm of the society," he said.
"The Games has also been a great event to arouse public interest and to promote the cause for people with a disability...an accessible bridge has been formed to join our hearts," he said. Full Text