American swimmer Melissa Stockwell ended her Paralympic journey in Beijing Friday just short of qualifying for the 400m freestyle S9 finals.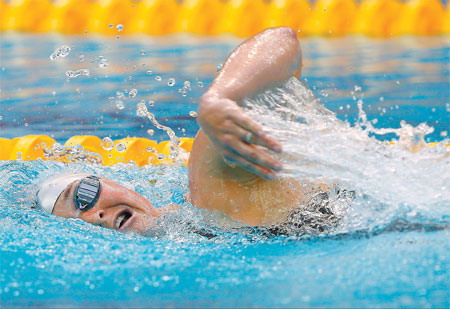 Melissa Stockwell competes in the qualifying for the 400m freestyle S9 finals at Beijing Paralympic Games September 12, 2008.
Although the 28-year-old gave it everything, her finishing time of 5 min 9.89 sec was not enough to take her into the final stretch.
"In my mind, I have made it to Beijing, and it was my goal in the first place," said Stockwell, struggling to fight back tears. "I was happy to be here and enjoyed every moment of the race."
Only the coach she was hugging and she know how hard they had worked to get her ready for the Beijing Paralympics.
The past four years saw dramatic changes in the 28-year-old's life. She went from being a valiant soldier to a Paralympic swimmer.
Stockwell used to be an exceptional diver, rower and gymnast in college. But her dream was never to become an athlete -- it was to wear the uniform and serve her country proud.
In 2002, Stockwell, who was nearing university graduation, enrolled in the United States Army as a second lieutenant. Two years later, she was sent to Iraq, where her job was to lead a supply convoy between US installations in a Baghdad suburb.
But a roadside bomb accident during a routine convoy in Baghdad left her with the lower left leg amputated. The then 24-year-old underwent 15 surgeries in almost a year in hospital and retired from the army.
When swimming was first introduced as a form of physical therapy for rehabilitation, Stockwell rediscovered her athleticism and a new starting point -- vying for a spot at the Beijing Paralympics.
"I was drawn to swimming because I didn't have to wear a prosthetic to do it," she said.
Just a year after her injury, Stockwell was out of hospital and training for the sport; and before long she secured a spot in the 2008 Games on the American Paralympic team.
Out of the pool, Stockwell has stepped out from the shadow of her brush with death, and is studying to become a prosthetist to fit other war amputees.
"I am moving on with my life and happy with where I am," she said.