It's been a tough year for famous sprinter Oscar Pistorius.
First there was the successful court battle he fought for the right to make history and compete at the Olympics, followed by the disappointment of failing to qualify; then a heated public row between his nation's Paralympic team and officials last week.
But now the South African is looking to put it all behind him in the 100, 200 and 400m at the Bird's Nest next week.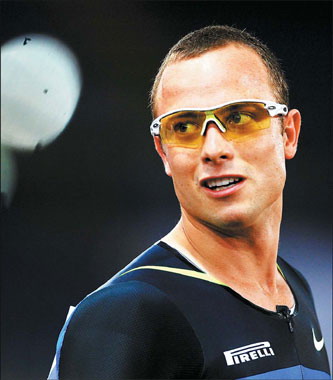 As the reigning world champion in all three events, he has set his sights on becoming the star of the 2008 Paralympics.
"My goal is to come home with three gold medals," he told the Pretoria News at a send-off last week.
Known as the "Blade Runner", Pistorius, who was born without fibulas, is the defending Paralympic champion in the 200m and runs with the aid of carbon fiber artificial limbs.
He says the 400m will be his strongest chance in Beijing, while he expects the biggest challenge to come in the 100m.
Before the Olympic Games, the whole world had been anticipating Pistorius giving the fastest men on legs a run for their money.
For Pistorius, the disappointment of falling short followed the distraction of fighting the International Association of Athletics Federations (IAAF) to recognize his artificial lower legs.
After the IAAF ruled in January he was ineligible to compete in its competitions, the Court of Arbitration for Sport reversed the decision four months later, ruling that the IAAF had not proved Pistorius' prostheses give him an advantage over able-bodied athletes.
"There were many people who were critical and had doubts, but this has proved once and for all that I don't have an advantage.
"The timing of the court cases was not great, but I am glad that they are now behind me," he said.
Pistorius said his preparations and training, although strained because of the year's events, were on track and his morale was high.
"I think I will fulfill my dream," said the Gauteng Province native.
Despite falling in the preliminary round of the 200m in Athens four years ago, he qualified for the final, which he won in a world record time of 21.97 seconds and beat single amputee runners, Americans Marlon Shirley and Brian Frasure.
In 2005, Pistorius finished first in the able-bodied South African Championships over 400m in a world-record time of 47.34 seconds, and at the Paralympic World Cup the same year he won gold in the 100m and 200m, beating his previous 200m world record.
At the 2006 Paralympic Athletics World Championships, Pistorius won gold in the 100, 200 and 400m events, again breaking the world record over 200m.