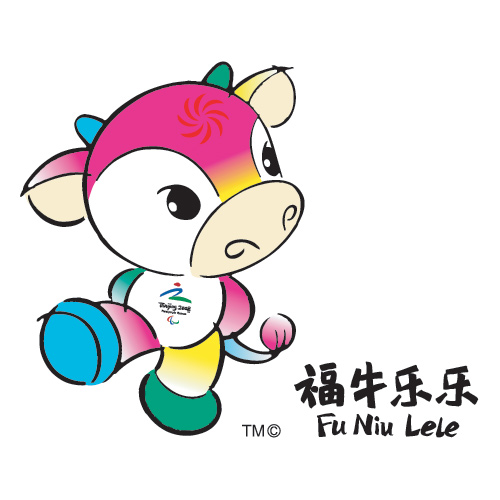 The design of Fu Niu Lele derives its inspiration from the farming cultivation culture of ancient Chinese civilization, and bears the following salient features:
(1) Showing the rich concept of the Beijing Paralympic Games
Cows, symbolic of a down-to-earth, diligent, staunch and never-say-die spirit, are adopted to show the unremitting spirit of athletes with a disability in being the best they can be. It dovetails with the upbeat spirit of Paralympians and the concept of "Transcendence, Equality, Integration" of the Beijing Paralympic Games.
The determined, optimistic and diligent spirit of cows reflects a positive attitude to life. The Paralympic Games calls for people with a disability to enjoy the same rights to compete in sports as anyone else, and to achieve sporting excellence and inspire and excite the World, and thus develop their strength to add vigor and vitality to social progress.
Fu Niu Lele invites people from across the globe to come to Beijing, enjoy the splendours of the Beijing Paralympic Games and see the inspiring performances of Paralympic athletes who achieve the unexpected
(2) Embodying the harmony between man and nature
As one of the animals closest to human beings, cows are well-known for their friendliness and their affinity to the humans who care for them. Throughout the history of the development of world civilization, poetry and songs have clearly expressed the aspiration of humankind for a harmonious life. Cows have often found their way into the natural, cozy and poetic country life reflected in literary and art works, showing public expectation for the harmonious coexistence between man and nature.
In the traditional culture of China, cows are also depicted as animals considered auspicious in inviting good weather and bumper harvests.
(3) Carrying rich national style and cultural features
The design scheme absorbs the modeling and design styles unique to China's folk engraved prints, New Year drawings, and toys. This, plus features unique to the modeling of modern cartoons, shows an integration of traditional folk style and public interest with that of modern times.
(4) Cows are widely accepted internationally
Cows were one of the first animals depicted in literary and art works. Cases in point include the Lascaux mural in France and Altamira rock paintings in Spain, which all contain drawings of cows. Therefore, adopting cows as the mascot of the Paralympic Games, instead of traditional rare animals, is a creative act in terms of design to a certain extent.
(5) Commanding space for future designs and marketing
The design scheme conforms to the principle of stability. Its basic image facilitates the combination of the modeling of sports with souvenirs of the Paralympic Games, and is also good for the adoption of down, plastics and other materials. The mascot could be made of simple as well as different materials in accordance with the need for combined modeling.