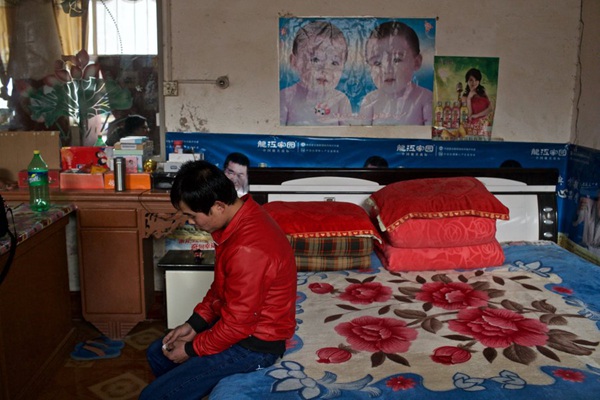 Yuan Xinqiang continues to wait for his missing Vietnamese 'bride' in Nanliyue village, Handan, North China's Hebei province, Dec 11. [Photo/CFP]
The imbalance in the gender ratio of newborns in China has remained high over the past 20 years, with more than 120 male babies born for every 100 female, Beijing Youth Daily reported on Wednesday. It warns about the problem of "leftover men":
The issue of "leftover women", or those who cannot find their dream partners, has been a hot issue for years.
Though the number of "leftover men" is estimated to be up to 30 million nationwide, the issue has not received as much attention as single women in cities. That is because this group has a rather weak voice in society. While most "leftover women" work in cities, most "leftover men" live in rural regions, have little access to the Internet, and do not know what to do when they are unhappy.
"Leftover men" tend to have less education and low incomes. There is no solution to their problem, which might evolve into a deep social crisis.
The imbalanced gender has actually pushed up the cost of marriage; as a result, the economic condition of a family decides a man's marriage. It is the poor rural families where young men cannot afford big dowries that are suffering most.
Therefore, the increasingly serious problem of "leftover men" actually reflects the widening social gap between urban and rural areas. This problem is huge and most of the men are young and prone to instability.
In some sense, the problem of "leftover men" is a result of imbalanced gender ratio of newborns in the past 20 years, and society is now paying the price. It is time we corrected some wrong policies, so as to prevent similar problems in another 20 years.