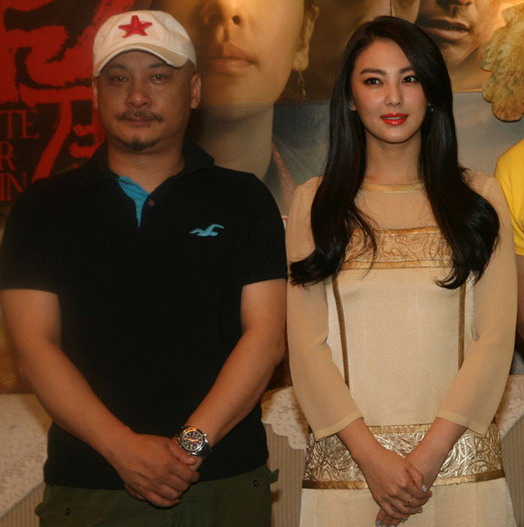 This photo taken on Sept 9, 2014, shows director Wang Quan'an and his wife Zhang Yuqi at the premiere of White Deer Plain. [Photo/IC]
Chinese Film director Wang Quan'an has been arrested on charges of soliciting sexual services. But he is not the first celebrity to face such charges. Other celebrities, including the actor Huang Haibo and online opinion leader Xue Manzi, have been arrested for the same offense.
Although people are bemoaning the decadence prevalent in the entertainment industry, by far the bigger question is: Why does prostitution thrive in China even after more than three decades of crackdown?
According to the Law of Evidence, courts can accept three categories of evidence in sex trade cases. It must be confirmed that the "parties" involved do not know each another, that the deal was done in cash and that direct sexual activity took place. Other evidence such as "someone reporting" the case, "condoms being found" at the scene, "confession" of suspects, or "suspects exposing each others' crime" cannot be accepted by the courts.
Another problem is that, according to the Criminal Procedural Law and the Police Law, only policewomen are authorized to arrest prostitutes. This prevents policemen from immediately raiding a premises after getting a tip-off and, in many cases, allows the suspects to escape by the time policewomen reach the scene. Also, since suspects have to be notified about the charges they are being arrested for and can seek re-examination of the same according to the Regulations on the Implementation of the Administrative Review Law, they can remain free before their request is rejected.
All these have made the crackdown against prostitution (or the move to "wipe out pornography"), more of government leaders' wish rather than a policy involving long-term planning and strategy.
Since prostitution is illegal, sex workers dare not report to police when they are raped, robbed, beaten up or harmed in other ways. As a result, sex workers have become easy targets of violent crimes; they have also been cheated, kidnapped and even sold overseas.
Therefore, prostitution should be seen as a social problem instead of moral offense or cultural decadence.
The author is a professor at the Institute of Sexuality and Gender, Remin University of China.