Prepared for aging
The Chinese nation has a tradition of respecting and caring for the aged. Nowadays, China faces greater-than-ever pressures to take care of its elderly people, thanks to the practical need to brace itself for an aging society.
This can best explain why the national legislature decided in December to set the ninth day of every lunar September as Seniors Day, although the country already has its Chongyang Festival, or Double Ninth Festival, which falls on the same day as a reminder of the homage that young people should pay to the aged.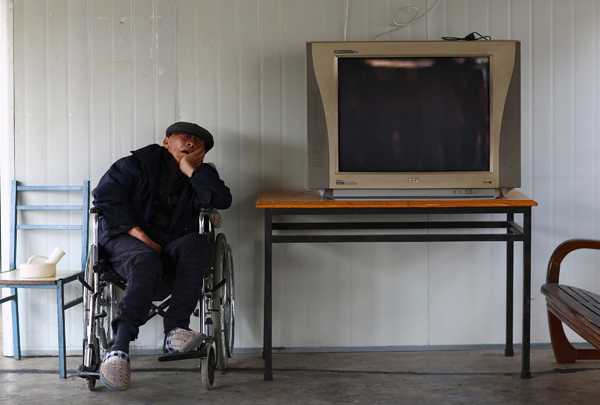 A man sleeps on a wheelchair next to a television set at a nursing home on the Double Ninth Festival, or Chongyang Festival, in Kunming, Southwest China's Yunnan province, Oct 13, 2013. The Chinese honour their elderly during the festival, which falls on the 9th day of the 9th month in the Chinese lunar calendar. [Photo/Agencies] 
With the world's largest population, China has to grapple with a series of problems arising from its rapidly aging population.
Statistics shows that the number of people aged 60 and older was 194 million in China in 2012, 14.3 percent of its total population, and is expected to increase to 202 million, 14.8 percent of its total population, by the end of this year. The proportion was 12.5 percent in 2009.
By international standards, 14 percent is the threshold for an aging society. And the aging peak is yet to come.
For decades, China's economy has benefited enormously from its demographic dividend. However, the continuous rise of its worker-to-elderly-dependent ratio, which is currently 16:100 and is expected by some experts to rise to 64:100 by 2050, means the loss of the huge demographic advantage.
An ever-expanding gray population also means the country has to shift more resources to support its pension and healthcare network.
The serious inadequacy of nursing services and corresponding facilities tailored for the elderly indicates the country is far from being prepared.
A series of recent measures - including encouraging the opening-up of the seniors' care industry to nongovernmental capital, and encouraging the aged to mortgage their homes for pensions and improve their living conditions - attest to the authorities' increased awareness of the aging population.
It is time that decision-makers came up with sensible measures to address society's concerns about senior citizens' guaranteed welfare.
(China Daily 10/14/2013 page8)