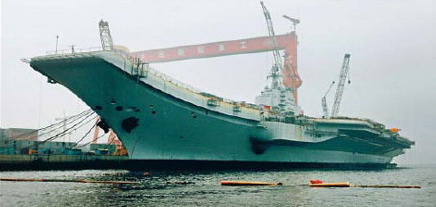 China is making use of an obsolete aircraft carrier that was bought from Ukraine and is being refitted for scientific research and training purposes, the military said. It is set to receive final adjustments at a shipyard in Dalian "before embarking on its maiden voyage", according to the official Xinhua News Agency.
The ex-Soviet Varyag, which remained incomplete when the Soviet Union collapsed in 1991, was bought for $20 million in 1998. Ukraine disarmed it and removed its engines before selling the craft to China. The vessel, delivered in 2002, has been undergoing refitting work at Dalian since 2005.
China is the last permanent member of the United Nations Security Council to get an aircraft carrier. Among the other four, the US boasts 11 and the UK, France and Russia each has one in operation.
In Asia, India and Thailand each bought and commissioned an aircraft carrier - in the late 1980s and 1990s, respectively.

Yin Zhuo, major general of the People's Liberation Army

Refitting an aircraft carrier does not mean upsetting balance in the region, or a change in our national defense strategy, which is essentially defensive. It will not change our offshore defensive strategy, either. China's navy has been playing an active role in developing open-sea cooperation and in dealing with nontraditional security threats, but our role is only limited to the field of nontraditional security, which is actually defensive as well.

 

Yue Gang, former colonel of General Staff Headquarters of the People's Liberation Army

Whether we will have another aircraft carrier is still unknown, but it is not time to compete in numbers. Our navy may slow down the pace of building the next, learn more of "Varyag" and build a more cost-effective one. A carrier is strategically an offensive weapon, but its role eventually depends on how to use it. China will use it to safeguard sovereignty and territorial integrity, so it is defensive. And it alone is unlikely to change China's military status in the world.
Cao Weidong, researcher with the People's Liberation Army Navy's Academic Research Institute

An aircraft carrier needs a power system, a weapon system, ship-borne radar and communications equipment. It takes a rather long time to develop such a set of equipment from scratch. Additionally, it is totally different piloting a shipboard aircraft than a ground-landing aircraft, so the pilots need special training. As a result, we won't have combat capabilities in the near future.

 

Meng Xiangqing, professor at the People's Liberation Army National Defense University

The time-consuming and energy-draining refitting of the "Varyag" carrier reflects Chineses navy's principle of pursuing both steadiness and excellence in developing aircraft carrier. As we all know, in today's world, many countries, including the great powers, started their development of aircraft carriers by refitting old ones.

 
@Wangjiaoshou Sina Weibo user

Aircraft carriers can greatly increase China's power projection capabilities. Whether in wartime or not, for a country without overseas military bases like China, an aircraft carrier can effectively protect the sea routes for important resources, and deter potential military threats and enhance political influence in regions where we have major interests.

 

@Fuqi Sina Weibo user

The US has 11 carrier battle groups, while China is only building its first. One hundred years later, when historians look back on China's rise to be one of the great powers, this aircraft carrier may be seen as a turning point. Just as Britain couldn't stop the US rise in the early 20th century, the US cannot stop China's in the 21st century, and we can see the signs everywhere.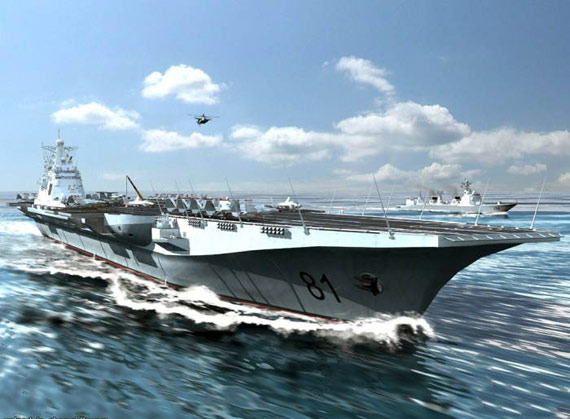 Will China have its second aircraft carrier? When will China have a second one, a third one and more? More important, when will China build aircraft carriers using its own technologies? These are all pertinent questions the public would like to know answers to.
On the other hand, while the Chinese are enthused about the first ever aircraft carrier, they are by no means carried away. If anything, the latest "Debate and Poll" column at the China Daily website provides a good gauge: although the majority see the refitting of the carrier as a major step forward, more than two thirds also admit China still has a long way to go.
Weibo Buzz ISSUE NO. 0001: War of Words on Gay Rights
Weibo Buzz ISSUE NO. 0002:Guomeimei and the Red Cross Scandal