They built America's railroads. They toiled in laundry shops and restaurants. They sent money back and built some of the sturdiest private homes in China. Yet, they did not have the good fortune to live in them.
They were part of China's diaspora, who made their money overseas, mostly in North America. They intended to come back home and spend their golden years in the villages they grew up. But wars and chaos prevented them from realizing this dream.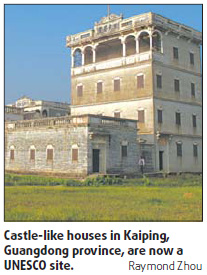 Most of these homes were built in the early 20th century in a part of Guangdong province known for its large number of emigrants. Kaiping and its vicinity have a diaspora population that rivals that of residents.
In an era when bandits roamed free and flooding was frequent, people who made an honest living had to defend themselves with thick walls, narrow alleys, high towers and small windows, many used for sharp-shooting. Only the upper floors were opulently decorated.
These structures did not come cheap. So who would not want to show off the fruits of their hard work?
By local standards, these were luxury housing, somewhat like castles for the newly rich. But they did not have the luxury to enjoy this fruit. Shortly after they were built, the owners had to leave because their homeland was caught in war. Many of these fortresses have been lying derelict ever since.
Now these odd remnants of past glory have been marked for protection. Kaiping Diaolou and Villages is a UNESCO world heritage site. Even though you cannot see many adult men in these villages, visitors have been arriving to get a feel of this unique fusion of East and West, high-brow and low-brow. Even filmmakers have noticed it. A film titled Flame Cloud, starring Chow Run-fat, is in production in a house with scaffolding. Will it bring more public attention to the old residences in Kaiping? We don't know yet.
Many owners live in the United States, and their descendents carry on their lives as usual. The upheavals through the times have left indelible marks on these buildings, which now serve as a reminder of a special time, a special place, and a very special people.
ONLINE
• Watch the video on China Daily website