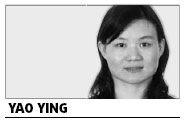 For Zhou Senfeng, every day of the past week must have felt like a year. The newly elected mayor of Yicheng city in Hubei province was grilled 24x7 by the media and netizens. Though not face-to-face, their questions have ranged from his family background and personal connections to his academic record and the brand of cigarettes he smokes. In short, they wonder how he could become a mayor at 29?
Zhou, on his part has said that "I don't want to be a newsmaker". He would rather remain silent and focus on his work. Some of his colleagues have reportedly come to his defense, though, saying he is very talented and hardworking.
But does this successful young man deserve the public and media scrutiny, especially since he has no strong family connections that could have helped him climb the ladder of power?
A person has the right to feel annoyed if the media and netizens dig up the details of his personal life. But if that person is a civil servant, he may have no choice but to get used to it, and respond accordingly.
It appears Zhou's age and the fact that he served the government for only five years are the main causes of the controversy. Some have questioned his ability to lead a city of about 200,000 people. Others may be simply jealous of his success.
But about 60 percent of the 36,000 respondents to sina.com's online survey said they'd accept his appointment if he was elected fairly. Which means more people are concerned about transparency of the election rather than age.
It is incumbent upon today's officials to win public trust. The pubic needs to be reassured not only about their competence, but also their honesty and fairness of the election process. Publication of officials' resumes and the electoral procedure both have to be improved.
As Yu Guoming, a professor in the Renmin University of China, said, we are now in a totally different era, which demands a change in officials' mindset. In ancient China, officials were never subjected to public scrutiny. No one dared to question their personal lives, and family and social backgrounds.
But the fast-changing social and administrative landscape means officials can no longer take things for granted. They have to adapt to the times, and survive the public scrutiny, because as government servants they cannot expect to be treated like ordinary citizens.
That's why it is important for the government to heed to the public demand for transparency. Many a mass online misconception has been created because of rumors and lack of timely disclosure of information. One such rumor regarding Zhou is that he plagiarized his doctoral thesis. Zhou has to come clean on this.
Plagiarism seems to have become so commonplace that some people have asked why should Zhou be driven to the wall while other culprits walk away scot-free? The question here is of ethics, which is an essential attribute for a public servant. An official has to win the trust of the people by proving himself clean. Or, he should have the courage to own up mistakes and mend his ways.
Zhou's rapid rise in officialdom reflects the country's effort to promote young people who have excelled in their career at the grassroots level. The government aim to "inject more fresh blood into the system" is welcome.
We hope such people would breathe new life into the system with their competence, integrity and dedication to serve the people. But, before that can we expect more transparency, please.
(China Daily 07/02/2009 page8)