National sporting teams that win international competitions help boost the prestige of their countries.
But too much emphasis on such achievements may involve economic benefits that push teams to cheat, denigrating the trophies that they win.
The latest scandal involves the Daping High School in Chongqing. The school's team won an international girls' soccer tournament last week in Turkey, but most of its players were allegedly from a national junior squad and were not fully enrolled students.
According to official regulations posted on the International School Sport Federation's website, all players participating in tournaments must be full-time students of the schools they play for. What the school did was obviously an act of cheating.
Participation itself is more important than winning - it is an attitude we hold whenever we send a team to take part in an international sports competition.
Titles and trophies are given to encourage players to do their best in whatever sports they take part in. Audiences appreciate in a sports game not only the techniques players display but also the tenacity they demonstrate. That is why audiences often give warm applause to players who have no chance of winning but try their best to present as best a performance as they can.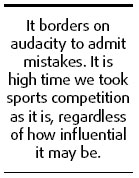 In the past decades, there has been a tendency to associate international sports competitions too closely with winning credit for the country. Media reports would particularly play up world champions as winning honors for the country, in return putting a lot of pressure on those who participate in international competitions.
Cash awards by governments at different levels or enterprises for world champions have added to the glory of such titles.
It is all too natural for world champions to get the limelight they deserve. But sportsmanship should never be swayed by any glory beyond the game and related economic benefits.
Any cheating for the sake of winning titles constitutes an insult to the spirit that sports games are intended to convey. The Chongqing high school soccer team scandal is no exception.
To our comfort, this case of cheating has been exposed and it deserves criticism and reflection. The Chongqing municipal sports department has reportedly ordered the school to return the tournament cup and apologize to the International School Sport Federation.
It borders on audacity to admit mistakes. It is high time we took sports competition as it is, regardless of how influential it may be. Only then can we better appreciate the fun and aspirations we get from it.
(China Daily 04/22/2009 page8)