During the past decade, consumption in the United States has driven global growth. The problem is that, at the same time, American consumers lived far beyond their means, fueling exports from East Asia.
Today, Americans are no longer over-consuming but saving eight times more than only a few years ago. As a result, East Asia's export-led growth model has collapsed.
Over time, exports will take off again. But it is accelerating regional integration that will replace the old growth model.
From the late 1950s to the end of the 1990s, US personal spending, adjusted for inflation, tailed overall growth of the US economy. During boom periods, Americans consumed more; during recessions, less. A strong correlation prevailed between economic growth and personal consumption.
That all went out of the window during the past decade.
As the greatest asset bubble of history eventually burst, the impact has been felt first on imports. Through multinational production networks, East Asia has now been integrated in the global economy. What played out as a financial crisis in the US and Europe meant the collapse of exports in East Asia.
For a decade, Jack and Jill used their home like an ATM, borrowing against hollow dreams of ever-increasing prices, while buying new electronics in mid-Manhattan's Circuit City, one of the leading US retailers in brand-name consumer electronics. In turn, many of these notebooks, mobile devices and DVDs came from the Chinese mainland, from assembly lines owned by foreign multinationals. While high value-added components came from contractors in Japan, Taiwan and South Korea, the workers of the assembly plants often came from families that had fairly recently moved from the countryside to leading Chinese cities.
Today, Jack and Jill have lost their home or are struggling to keep it. Since January, Circuit City has been liquidating its stores following its filing for bankruptcy and subsequent failure to find a buyer. In February, Japan's exports suffered a record plunge of almost 50 percent. Taiwan and South Korea were not far behind. In China, Guangdong's export engine slowed down, some migrants returned home, while others stayed.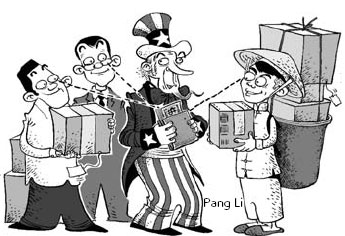 The negative demand shock worldwide caused a collapse of export-driven growth. The nightmare of US consumers was exported worldwide.
Now, export-led growth has collapsed - but it has not disappeared.
As US President Barack Obama said in the London G-20 Summit, the world needs to come to grips with the fact that voracious US consumption can no longer serve as the global economy's primary engine of growth.
"If there's going to be renewed growth, it can't just be the United States as the engine. Everybody is going to have to pick up the pace," Obama remarked.
A correction of demand is not identical with the end of demand. During the past decade, the contribution of consumption in the US output has been more than 70 percent. Between the mid-1980s and 2000, it was over 65 percent. In fact, it has been more than 60 percent ever since the 1950s.
Over time, US spending will continue to support export-led growth models worldwide, even if it will no longer be the primary growth engine.
In 2005-2020, the compound annual growth of US population is projected at 2.93 percent, which is over 50 percent higher than that of the UK and three times higher than that of France, not considering Germany or Japan, whose growth rates are negative.
The US population will be older as well, but - as long as immigration continues - graying demographics will not cause the kind of dislocations that are almost inevitable in Japan, Germany and Italy.
The contraction of exports, as severe as it has been, does not mean the end of exports. Take for instance the collapse of car sales in America. If the current replacement ratio truly prevails, a typical car would have to last some 27 years. Such a ratio is simply not sustainable.
Only a few years ago, Detroit was selling twice as many light vehicles as it is today. Those years are now history. But the present trend cannot be sustained either. In fact, the collapse of car sales may be contributing to the potential for a huge rebound in vehicle sales in the future.
Since the 1960s, East Asian countries that managed to develop competitive export industries have been rewarded with stunning growth rates - from Japan and newly industrialized economies to China.
High growth of 10 percent or more in per-capita terms would have been inconceivable without the global economy being able to absorb these countries' exports.
Fed by demand from the West and supply from the East, the export-led growth model worked relatively well until the 2000s. It also contributed to the export-driven recovery after Asia's financial crisis of 1997-8. Now the glory days of export-driven growth may be fading.
After the G-20 summit, Asia's leading economies are turning their attention to lifting consumer demand and strengthening financial systems.
Despite the postponement of the scheduled ASEAN summit in Thailand, the Southeast Asian economies, along with China, Japan and South Korea, are discussing plans to lessen dependence on exports to the West by broadening regional free trade agreements.
Meeting envoys from the 10 ASEAN countries in Beijing, Chinese Foreign Minister Yang Jiechi noted that China-ASEAN cooperation is vital for the two sides to "rise to difficulties in face of the grim global financial crisis, and make efforts to convert unprecedented challenge into opportunity for closer pragmatic cooperation and common development".
Demonstrating leadership, China will establish a $10 billion China-ASEAN investment cooperation fund for infrastructure construction, energy production, information technology and communications. China also plans to offer $15 billion in credit to ASEAN countries during the next three to five years.
The World Bank last week forecast the global economy would contract 1.7 percent this year, the first global decline since World War II. As worldwide demand declines, exports and industrial production across East Asia are falling, leading to factory closures, job losses and lower wages.
However, the bank praised Asian governments for reacting swiftly, cutting interest rates and taking other steps to ensure adequate liquidity in their financial markets. In China, the large $586 billion stimulus package is now boosting consumer and industrial demand.
The longer-term challenge for Asia's export-heavy economies is to reduce dependence on wealthier consumers in the West. Surmounting legacies of colonialism and historical division, many Asian nations are now developing bilateral and multilateral free trade agreements. Regional integration is one way to achieve that objective and to compensate for decreases in external demand.
In the postwar era, the US led the multilateral institutions that made possible global growth. Now we are amid a massive structural transition of the world economy.
In the post-crisis era, China, along with East Asia and the advanced economies of the US and Europe, will lead the multipolar institutions that could enable global growth for decades to come.
The author is the research director of international business at the India, China and America Institute.
(China Daily 04/15/2009 page9)