Fraudsters trick customers into buying poor quality or fake goods that otherwise they would never set their eyes on. But it's surprising to hear that some real estate developers in Beijing have reportedly resorted to similar tricks by paying retirees to act as clients and mislead potential buyers into believing there's a boom in the property market.
Is this the proper way of rejuvenating the sluggish housing market? Or is it an act of suicide? We think it's the latter.
Realty developers have employed all conceivable means to extract the maximum from customers and made massive profits from the rapid hike in housing prices in the past several years. There have been many cases of customers being fooled by developers' specifications in purchase contracts. Many developers have failed to keep their promise when it comes to the quality of houses or the expanse of greenery in a residential complex. Thus, it won't be an exaggeration to say that some of them have used nasty tricks, usually associated with fraudsters, to sell residential and other units.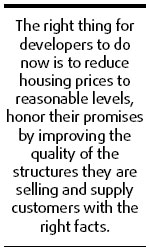 That's why developers were stewing in their own juice even before the economic slowdown set in. That is to say, the housing market would have lost its steam sooner rather than later even if the government had not regulated it by imposing strict rules and due supervision. Quite a few local governments have announced policies in the past year to reduce property prices to encourage residents to invest more in houses.
But very few property developers are ready to accept that their dodgy practices contributed to the slowdown in the housing market. Instead, many of them are trying to induce some Internet sites into flashing fake news about people buying houses in groups because prices have bottomed out.
Their crooked ways, however, cannot hide the fact that 164 million square meters in apartments remained unsold in the country last year. This is a record, with 10 million square meters being unsold in Beijing alone.
Housing prices are still too high, and many people cannot afford to buy an apartment even though they are desperate to do so. This, experts and ordinary residents both believe, is the major reason why the housing market has hit such a low.
The right thing for developers to do now is to reduce housing prices to reasonable levels, honor their promises by improving the quality of the structures they are selling and supply customers with the right facts. That is the only way they can boost buyers' confidence in the market.
Trying to fool potential buyers by hiring people to help create a false sense of boom in the property market will lead them nowhere. It will only dampen buyers' enthusiasm further.
And it's the duty of government departments to regulate the housing market so that it develops healthily and benefits house buyers and the national economy both. They have to stop the unscrupulous practices of the realtors and make them realize that honesty is still the best policy.
(China Daily 04/09/2009 page8)