There is more to winning or losing an Olympic gold medal than pride - as the cash rewards from marketing athletes suggest.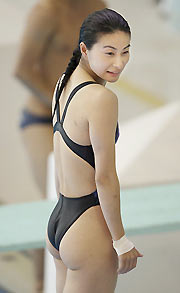 China's gold medal-winning diver Guo Jingjing smiles during an exhibition match in Hong Kong August 30, 2008. [Agencies]
"Diving Queen" Guo Jingjing is one of the most successful female athletes in marketing thanks to her success at the Beijing Olympics, as well as her healthy and pretty image.
One of Guo's major sponsors, Japanese electronics giant Toshiba, said Guo's image matches the company's global impression of being "perfect".
It is planning to launch a new series of promotions involving the diving superstar, who has four gold and two silver medals.
Another reason for Toshiba's support of Guo is her popularity. A survey on "who was the best female athlete at the Beijing Olympics", conducted by Sina.com and Titan Sports, put Guo top.
During the Chinese gold medalists' visit to Hong Kong last week, tickets for Guo's diving performances sold quickest, with people queuing a day in advance for a chance to see her in action.
In 2002, after winning both the 1m and 3m springboard titles at the World Cup, Guo joined male diver Tian Liang, as the face of Chinese beverage company "Aodeli".
At the Athens Olympics, Guo won two gold medals and was signed up by such famous brands as Red Earth, McDonald's, Toshiba, and Coca Cola. Her income from TV advertising alone rose from 600,000 yuan ($87,900) to 1 million yuan.
In 2005, Guo appeared for the first time on the Forbes list of Chinese celebrities, which gave her annual income as 10 million yuan.
In July's Chinese Celebrity in Sports list, Guo was the richest female athlete in China with an annual value of 15 million yuan, ranked third overall after NBA superstar Yao Ming and 110m hurdles icon Liu Xiang.
Her fortune should increase after the Games with some reports speculating her personal wealth will reach 100 million yuan.
This will be a bonus for Kenneth Fok Kai-kong, the grandson of the late tycoon Henry Fok, who is reportedly set to marry the diver.
Super Dan soaring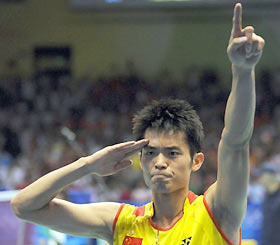 China's Lin Dan salutes the fans after winning the title of the men's badminton singles at the Beijing Olympic Games. [Agencies]
Badminton world No 1 Lin Dan is going to become another marketing phenomenon after he grabbed the men's singles gold medal, a sweet victory after his first-round exit four years ago in Athens.
Lin has long been a target of sponsors thanks to his glittering career, fashionable lifestyle and handsome image.
Even the Athens flop did not prevent companies from signing him up and the 2008 Forbes list of Chinese celebrities, released in March, ranked him 18th, with an annual income of 12.5 million.
Lin's major sponsors include Pepsi, Yili Group, Gatorade, FedEx and L'Oreal and each sponsor deal is from 1 million to 2 million.
With success in Beijing his career is prime time fodder and his love affair with women's world No 1 Xie Xingfang is adding to the excitement.
His annual wealth is expected to reach around 30 million for the coming year.
Even the shoes Lin wore during his final match at the Games could be worth a small fortune. A local newspaper reported they could be worth as much as 500,000 yuan.
Liu loses big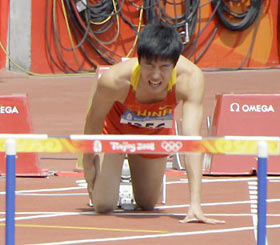 Liu Xiang grimaces in pain as he settles into the starting block of his 110m hurdles heat of the athletics competition at the Beijing Olympic Games in this August 18, 2008 file photo. [Agencies]
It's a different story for hurdler Liu, who will pay for his shock Olympic withdrawal before the first round of competition.
Officials from the sport's governing body insist Liu will be able to recover but there are doubts he will regain his status.
The negative effects of withdrawal and lack of exposure due to injury will likely decrease his value after many of his contracts with sponsors are set to expire next year.
The 25-year-old hurdler was formerly, with basketball hero Yao, one of the two most marketable sporting personalities in China.
Liu is believed to have earned over $20 million in endorsements last year alone, as companies such as Nike, Visa and Cadillac sought his help in building their brands in China.