OLYMPICS
/
Latest Medals
---
Zou wins China's first boxing gold medal

Xinhua
Updated: 2008-08-24 13:58
Zou Shiming has won China's first gold medal in boxing after Mongolian light flyweight Serdamba Purevdorj retired early in the second round of their title bout with an apparent shoulder injury.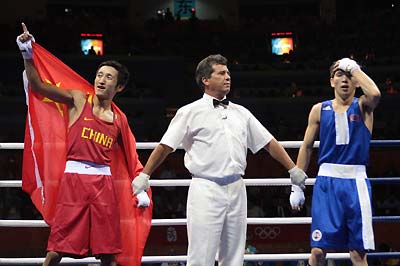 Zou Shiming (L) celebrates his victory over Mongolia's Serdamba Purevdorj during their Beijing 2008 Olympic Games Light Flyweight (48 kg) final boxing bout on August 24, 2008 in Beijing. [Agencies]
Zou had a 1-0 lead after a tentative first round Sunday, but the Mongolian coach threw in the towel just 19 seconds into the second. Purevdorj had been fighting with his right arm handing limply at his side, though he was able to throw some punches with it.
Zou's victory fulfills four years of high expectations for the two-time world champion, whose bronze medal in Athens was China's first in a sport long banned by Mao.