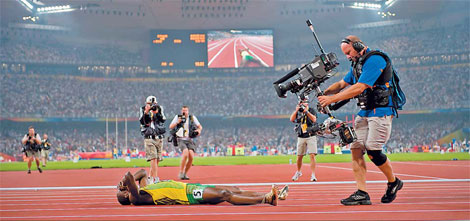 Usain Bolt of Jamaica celebrates winning the men's 200m final of the athletics competition in the National Stadium on Wednesday. He set a new world record with a timing of 19.30 seconds.Kenneth JARECKE/CONTACT PRESS IMAGES 
RICHARD WILLIAMS, The Guardian reporter
This time he remembered to do his shoelaces up. This time he ran hard all the way to the finish, looking neither to right nor left, and left out the extravagant look-at-me gestures. And this time he beat the most intimidating record in men's sprinting, one that those who were in Atlanta on an August night 12 years ago thought might stand for a lifetime.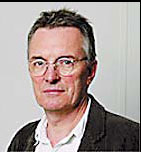 Perhaps Usain Bolt had taken the criticisms to heart. Or perhaps, when he arrived in Beijing for the Games that will forever define his career, he was taking Michael Johnson's great 200m record more seriously than he needed to take his first target, his own 100m mark, set three months ago.
Confronting Johnson's epic achievement was another matter, however. The 200m is his distance, the one at which, aged 15, he became the youngest ever world junior champion. Earlier this year he managed to talk his coach, Glen Mills, into letting him run the 100m because he fancied it, but Mills has always thought that he is built for the longer distance - and even for the 400m, if only he were willing to do the work and endure the pain it would entail.
Now he becomes the ninth man in Olympic history to claim the 100m-200m double. None of his predecessors, however, broke both world records in the process, and those times of 9.69 and 19.30 are the unassailable facts supporting the argument of anyone wishing to acclaim Bolt, who turns 22 today, as the greatest sprinter of all time.
He will need to be around for a while longer, adding to his collection of medals and records, before the award of such a status is universally recognized. Over the past four days, however, under the world's gaze on the biggest stage available to any athlete, he has made his case.
Perhaps it is too much to hope that he has also banished the suspicions that have undermined the integrity of Olympic sprinting for so long. But when you look at him, at his large frame and at the articulation of his limbs as he devours the track, you might be forgiven for believing that he, more than any leading sprinter for several generations, might just be able to achieve such feats without artificial assistance. There is none of the sense of physical distortion created by the excess muscle that powered recent generations out of the blocks. He looks balanced and natural. Well, we can hope.
http://blogs.guardian.co.uk/sport/2008/08/21/bolt_stakes_his_claim_as_the_g.html
(China Daily 08/22/2008 page27)