HONG KONG: Hiroshi Hoketsu's appearance at the Olympic equestrian dressage event here was his second Olympic event since the 1964 Tokyo Games.
Although Hoketsu missed his chance at a medal in the dressage competition on Tuesday, he is happy to have had the chance to compete, especially at his age.
Hotketsu's youthful wiriness, which he attributes to his love of sport, belies his 67 years. He works out every day to stay limber and avoid injury, but age has never obstructed him from competing.
"The day it affects my performance I'll quit," he said.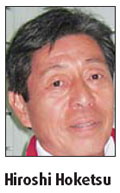 Hoketsu, however, admitted that competing with international top riders is not easy, regardless of age.
He has been riding since first mounting up at summer camp at age 12. The only break he ever took was after the Tokyo Games.
"At that time, I thought I had spent enough time on riding, so I sold my horse and went to graduate school in the United States," he said.
He realized just how much he loved horses one Sunday afternoon 18 months later.
"There was a stable near my university, and I felt compelled to go and see the horses," he said.
He has not stopped riding since. Even while president of a pharmaceutical company he would get up every day at 5 am for a gallop before going to work.
Hoketsu first became an Olympic show jump contender at age 22. He was a reserve at the Los Angeles Games in 1984, and would have competed in Seoul four years later if not for quarantine problems that forced him to withdraw.
He switched from show jumping to dressage at age 35, when his eyesight started to deteriorate.
"You need to be able to judge distance for show jumping," he said. "So I decided to switch to dressage."
Hoketsu moved to Germany to train for the Olympics five years ago after retiring, but makes regular visits to his family in Tokyo.
Hoketsu was satisfied with his performance in the Olympic arena, but was not happy with the big screen at the horses' eye level, which he said scared all the mounts including Whisper, his own.
He was eliminated in the first round of the individual dressage, but winning was not his main goal, he said.
"Riding is my hobby, and I want to improve, which is my motivation to continue. I don't ride just to be able to compete in the Olympics," he said.
Hoketsu said he felt reasonably confident of being fit enough to compete in the US World Equestrian Games in 2010, but less so about London in 2012 because it's too far off to predict.